What a whirlwind! We got back from our vacation on Saturday and on Sunday we decided that we were sending our kids to public school. We registered them today and MEET THE TEACHERS! Here is my sweet little peanut with the woman that will get to spend her entire day with him (and 20+) others. She seems like a sweetheart and I am sure he will love her to pieces.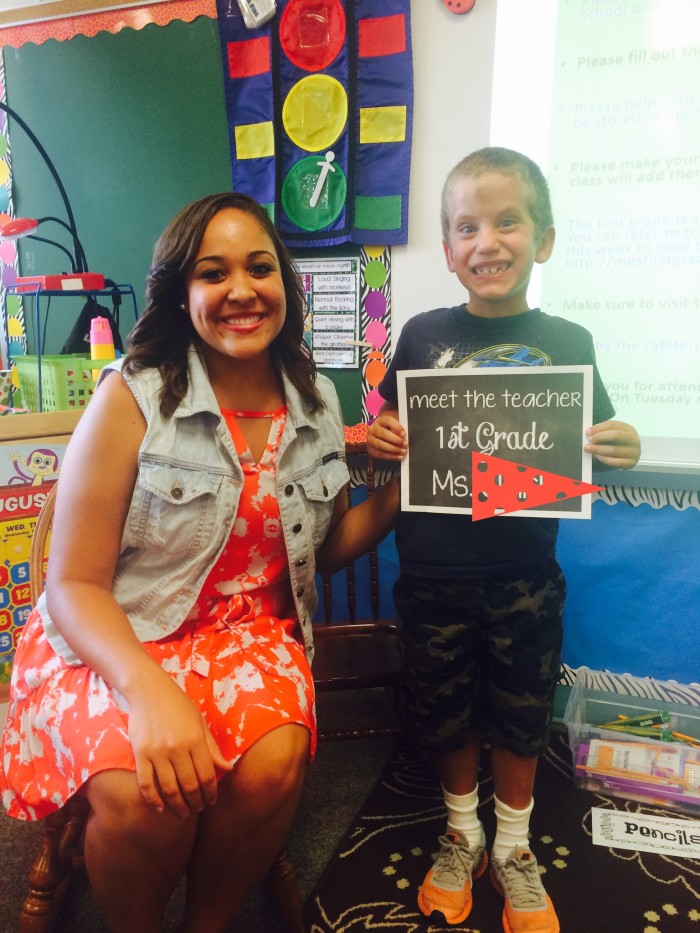 I know I published a post last Monday talking about how we were going to homeschool again, but things changed and FAST. We were so certain about our decision that I even bought William's ENTIRE year. The box with 77 books is currently sitting in my living room. UNOPENED. Luckily I can return it. It cost over $900. There are several things I purchased for the boys that I can not return. I'm out about $300. I should be able to use some of it for Nathan and let Will supplement his math depending on what he's working on in public school.
So why the change?! It wasn't easy. I'm holding back the tears even now, as I write this. We've been threatening our kids with this for way too long. There is attitude. There is rivalry. There is so much tension EVERY day. My heart says KEEP them HOME. It will be okay. It really will. My sanity says they need to go. Someone else needs to teach them for a while.
Originally we were just going to send Will. Lucas was going to stay home. My sweet boy asked to go. Mostly so he could get time away from his little brother. Ha. Poor little guy hung his head as he told me he wanted to go. He didn't want to upset me or make me sad. I told him OF COURSE he could go too.
So on Monday we got up early, went and bought STARBUCKS gift cards and apologized profusely to the front desk lady. We showed up with all the paper work filled out so it made things a little less painful for her. I went out and found the supplies I didn't already have and when I got home I found an email from the CHARTER school we really wanted to get in. Our spot was up, but they started last week. They were going to be able to place Will in 6th grade, instead of 5th (age appropriate).
We decided to meet the teachers first, before deciding. When we got there and discovered they were placing him with all the G/T kids it was bizarre. I immediatley felt a peace I had not felt yet. He will be in homeroom with a boy he was BFFs with in first grade. My mama heart HOPES and prays they hit it off again. If they do, that will make this OH SO difficult decision the best one ever.
Now Lucas? Who knows. We chose to place him in 1st grade. He could be in second but we have struggled the last 2 years with his reading and handwriting and I think 2nd will just be too much for him. He just turned 7 so that means he will turn 19 about 2-3 weeks before he graduates but I don't think we would have gone through with registering him if they had had a problem.
Nathan is less than thrilled about Lucas going to "puppet school", but he says Will is allowed to go. My sweet little man isn't going to know what to do with himself. He's never spent anytime away from his brothers at the same time. Well, there was that one weekend they camped on the Lexington and were gone for one night.
What ever am I going to do with that ball of energy for 8 hours a day without his brothers to help entertain him?! That will be a post for another month, I'm sure. I have many ideas up my sleeve, so never fear.