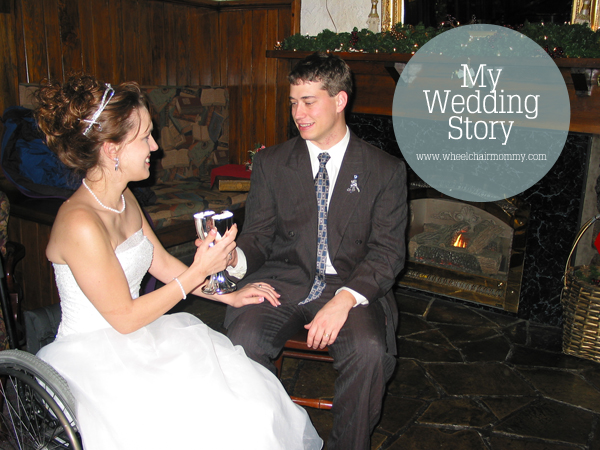 This page is "Our Story". We were married in 2002.
Our Wedding was spectacular!!
We had intended to fly in a helicopter over the Canadian and the American Falls (Niagara). That fell through and we were really disappointed! The Falls Wedding Chapel then showed us "Winter Garden". Things didn't turn out so bad after all. (We still wanted the helicopter though!!!)
Thursday
We left early Thursday (it was still dark out!) and got to Chicago with 2 hours to kill!! So we had McDonalds and picked up a mug in the gift shop (Charlie collects coffee mugs). We got on the plane to Buffalo and everything went great, when our plan touched down we got our bags, picked up our car and headed to our B&B!!
The snow was gorgeous!!! We were REALLY exhausted by the time we checked in and they showed us to our GORGEOUS ROOM!!! Let me tell you!! The pics DO NOT do that place justice!! If you are ever in Niagara Falls and want to stay on the US side STAY at THE RED COACH INN!!!!!!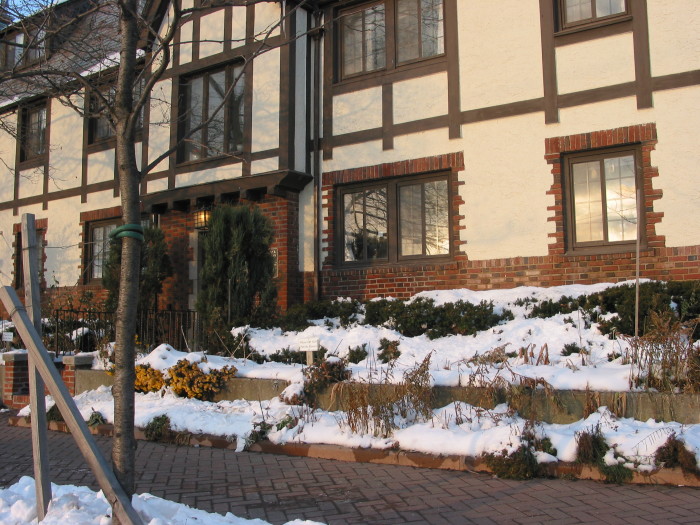 Our fridge had a fruit and cereal breakfast, milk, juice, crackers, cheese and champagne waiting for us!! We intended to go out for dinner but ordered pizza instead! YES we are nuts!! We took nice hot bathes and were asleep by 9 pm EST.
Friday
Friday was quite eventful!! We went down to Main Street and around 11:00 a.m. and picked up our marriage license. We didn't have to be in Buffalo until after 6p.m. to get my MOH, Shawn, so we decided to go over the border and shop!!!!
Shop we did!! We got lots of goodies at a store along the Falls
and even went to St. Catherine's, which is about 15 miles away! They have a mall there called the Penn Centre. I wasn't too impressed, but it was pretty big. We had lunch there, and then went to Tim Horton's and got coffee, it was so COLD outside!!! Anyways we headed to Buffalo and stopped at a nail salon so I could get my nails touched up for the big day!! They weren't looking too great, and I wanted everything to be just perfect.
We also stopped at Wal-Mart before heading to Shawn's hotel! Timing couldn't have been better!! We were waiting at the last light before the hotel when Shawn called and said she was waiting for the shuttle!! We got to her hotel about 10 minutes before she did! She checked in, gave me my dress and headed to Canada for Dinner in the SKYLON TOWER!!
TALK ABOUT A VIEW!!!!!!!!!! WOW!! The food was GREAT, the service excellent!!! We went up to the observation deck after dinner (I have never been so cold in my entire LIFE!!).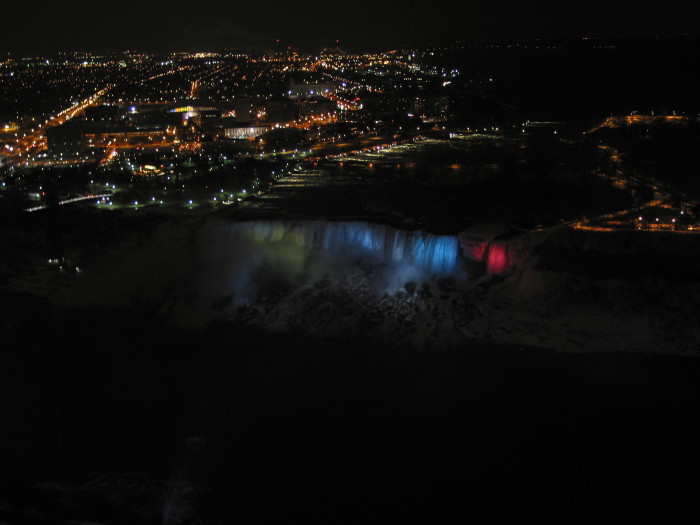 That was quite a site! We were able to get some decent pictures! I think it was close to midnight so we all needed sleep! We dropped Shawn off at her hotel and came back for sleep before the BIG DAY!
OUR WEDDING DAY!
We woke up early and headed into buffalo to pick up Shawn. She was waiting at the Cracker Barrel with a HUGE breakfast…(I had to be careful of what I ate so I could fit in my dress! (lol)
We ate to our hearts content and then we headed into Niagara Falls. My Canadian friend Mike was
waiting with his mom, er mum. We all went into our room, said hellos and hugs and found out thre was going to be a problem.
The cloud coverage was to bad and they didnt think the helicopter was going to fly. We switched rooms without seeing each other and the phone rang. We werent flying.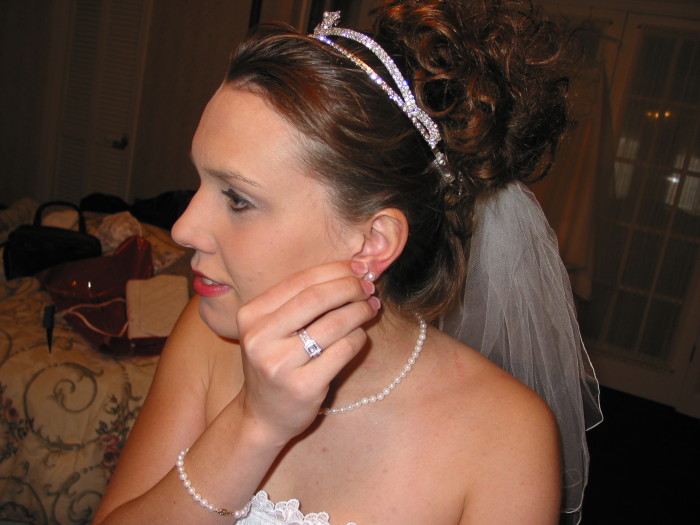 However, we were going to try and make it great!!
When we got to the chapel we werent too happy. Charlie and Mike saw helicopters flying after the chapel
said they couldn't.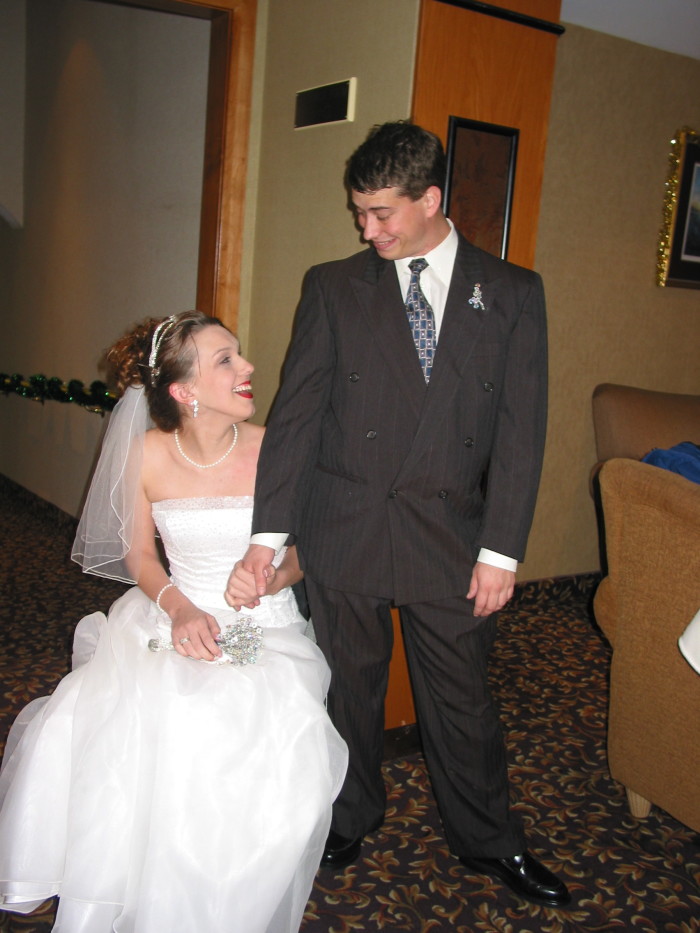 Oh, different country. Canada flew higher.
Well we didnt want to get married Vegas style and they couldn't perform the ceremony outside!!
They showed us this place called THE WINTER GARDEN next to a Rainbow Centre (outlet mall…..the mall was closed
for renovations!!) We liked it!!
They put the candlebra in the center, got the music ready. Charlie carried me down the "aisle" to the tiny island where we became husband and wife!!! We will never forget what the minister said during the ceremony. He asked Charlie what he did for a living and after finding out he worked with computers said, "DUDE YOU'RE GETTING A WIFE!". Who gets that reference?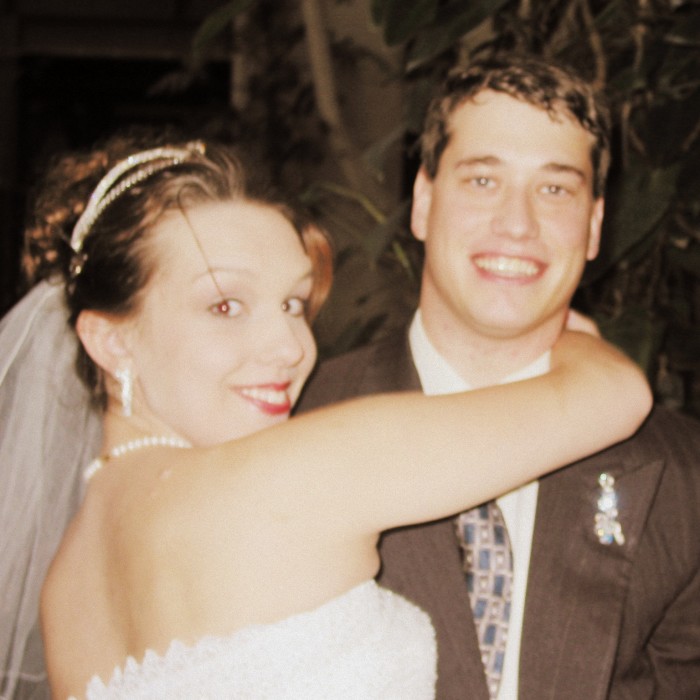 We took pics and then headed over the border to the Canadian Falls…..WAY TO COLD!!!! Brrrrrrrrrrrr I did get my pics in the snow with NO jacket!!!
YES I AM NUTS!!!!!!
Dinner Story!
After we left the falls we went back to the US and our B&B……..they also have a lovely restaurant!! We had our own private room. We ordered champagne, and Shawn set up our cake table!
We ordered YUMMY appetizers (some award winning cocunut shrimp, and something esle). Our appetizers were Feta Cheese stuffed Shrimp wrapped in Bacon with Tomato Coulis and the cocunut one isn't listed but they got an award for it!
I refuse to admit what I ate!! (A cheeseburger!) – After we ordered we did the toasting glass routine!!
After a wonderful dinner we did the cake cutting!
Bad cake!! Charlie said he liked it and we even cut off a chunk of it for him to finish!!! We threw it away monday afternoon…..he never touched it again!!!
We did a little dance in our private dining room and then went back to our hotel to do our "Dance". It was supposed to be "Everything I Do" By Bryan Adams but the file wasn't on Charlie's computer like he thought. This was before the days of iTunes so we found something we kinda liked and danced the that. We chose "I wanna love you forever" by Jessica Simpson.