This post is sponsored by Catch Air | Round Rock.

Catch Air in Round Rock opened a few months back and I have wanted to work with them from the beginning.
They reached out to me a few weeks ago to see if I wanted to take my boys for spring break and I jumped at the chance. <<– see what I did there?!
I knew my kids weren't going to go unless they could bring friends, because Spring break with JUST mom is boring. Catch Air kindly agreed to give me enough passes to keep my kids and their friends happy for a few hours.
We showed up when they opened at 1o AM, filled out the waiver and everyone started playing. I highly recommend filling out the waiver at home BEFORE you go. The lines are long and creating an account is a bit tedious on an iPad.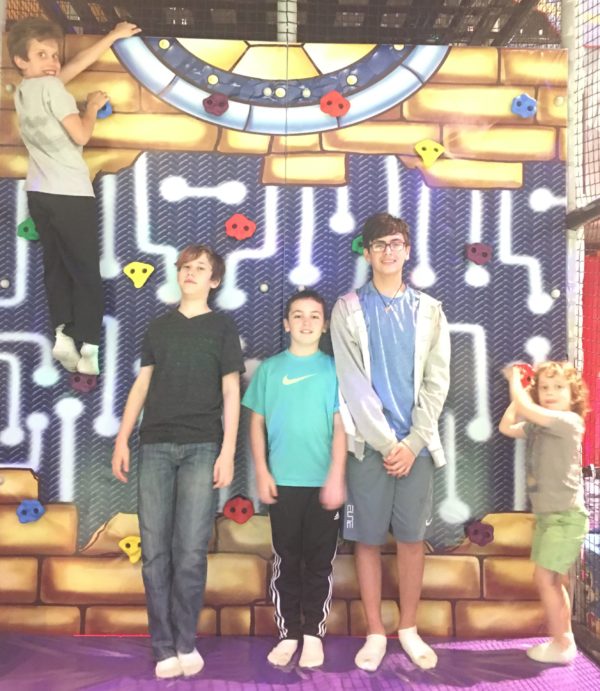 Oh and definitely bring socks. This is more of a giant playscape and than a trampoline park. The older boys lasted about 90 minutes before they started begging for food and saying they were bored. Someone lost their phone in the ball pit just before lunch so that delayed us.
Full disclosure: When asked their opinion for my post, the 8 through 12 crowd said they got bored really quickly, they were hoping for more trampolines. That being said, their target audience is the 12 and under crowd, so it makes sense than the older kids would have a shorter attention span.
My five-year-old could have stayed the entire day. He might even want his birthday to be there, Dance parties and all.
They even offer a toddler area for younger kids. There is truly a little bit of everything for all age groups. They even have a parent lounge with a place to sit and plug in devices.
The prices can be found on their website.