I went to Blogelevated hoping to meet bloggers (and I did) and hoping to connect with brands, (OOOOH how I did!) but I did not expect to go to Blogelevated and walk, err ROLL away, knowing exactly what my mission will be over the next 12 months.
When I was first paralyzed, I planned to write a book. It had a catch name and everything. While I was busy making these fantastic plans, life happened. It really, trul I never wrote the book. I started a website way back when. It's so far back that even the way back time machine can't find it. Seriously, 1999. I eventually moved on to keeping a journal on message boards. I'd post about wedding ramblings and eventually pregnancy ramblings and people would comment. I'd comment back. We'd have wonderful conversation. It was around the time I had my son that I found the blogging platform and it took a few years before I started using it. I eventually transferred all my old message board posts so I really can't even go back and figure it out.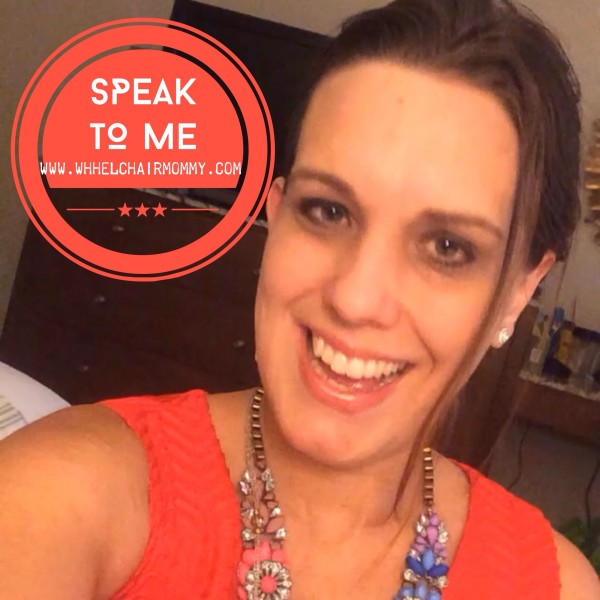 This has all been an easier way to tell my story continuously, but for the last 2-3 years it hasn't quite been enough. I want to reach more people. I want to share my story with everyone. Okay, let's back up. I don't want to tell my story exactly, but I want to reach more people so they can see me live my story. I want them to see me live my dreams. I want others to see that I made the choice to LIVE and to live fully. I want that to be an encouragement for the days they want to just crawl under the covers and never come out. I've been there. I still go there.
I'm not going to tell people to have faith and rely on God for their strengths. That's personal. That's not my place. If that's what helps them and motivates them after seeing me and hearing my story, great. That's amazing and beautiful. Faith is a beautiful and wonderful thing. However, it's very personal and I don't think it's always faith that gets us through. I think sometimes it's our own strength. Strength we don't know we have and that we didn't necessarily get from a higher being. It's not fair to tell the boy that doesn't believe he can't recover or be happy unless he has faith. That will only tear him down.
Okay, so what exactly do I want to focus on? I want to keep blogging and I want to keep meeting and connecting with every one of you and introducing you to amazing brand, of course. I am going to take it a step further. I am going to start speaking at conferences and Universities. I am going to stand sit on stage or snake my way through the crowd and tell every one my story. The best part? I already have my first one in the works! I'll keep you posted!