On the 12th of this month, I will have been paralyzed for 15 years. Have you read how I was paralyzed? Have you read the crazy questions STRANGERS ask me? This month will be dedicated to SCI. This month is also Spinal Cord INJURY (SCI) Awareness Month.
I often forget those early days. In fact, I don't even think about them. However, last week, my sister told me there was a newly injured girl where she worked and that she'd probably be friending me. She couldn't tell me anything else due to patient confidentiality. I checked FB and sure enough I had been friended by a beautiful smiling face. I immediately accepted, sent her message assuring her life would go on. I then asked her injury level and if she wanted me to come visit.
I had to wait all day. She was busy, of course and hadn't responded to my messages. I did a little bit of sleuthing, as I often do and found her support page and her mom and got to work getting to know this young lady. I plan on keeping her identity private, but I'm sure I'll talk about her again.
I posted this on Facebook: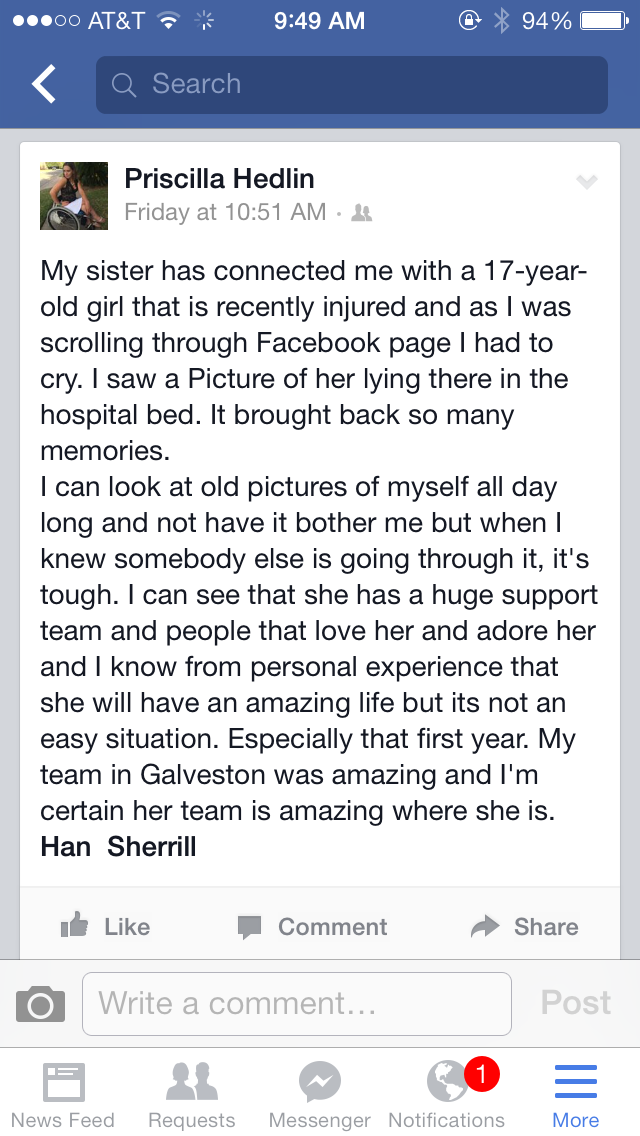 I'm going to visit today and my heart is just bursting with emotion. I'm excited, nervous, scared… There are so many different feelings around this visit.
I've always wanted to mentor and support newly paralyzed girls (or boys) but life got in the way and I've never called the hospitals to see what was required. I got married and started having babies. I'm just living life.
This has been one of my goals/dreams. If I have to sit in this life, why not help others so new to it? Show them that life can amazing and full!