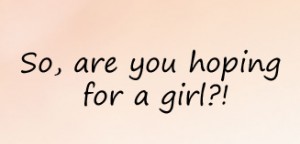 I have two boys. I'm pregnant again. (I guess everyone knew that, right?)
Everyone automatically assumes we want a girl. I don't think we've encountered but a tiny handful of people that didn't ask if we were hoping for a girl. It's actually been quite humorous.
The answer to that question is YES and NO. We want a baby. We want a healthy baby. If we have a girl that would be FANTASTIC. If we have a boy that will be just as wonderful.
There are pros to both and I can't think any genuine negatives. Here is the run down:
If we have another boy I don't have to buy that many clothes. (I will admit I am very bored with most of them.)
I remain the only female and how can being the Queen AND princess of the house EVER be bad? If you have a boy you know just what I mean. There is nothing quite like having a Mommy's boy. I currently have two and love every minute of it. Yes, even the minutes where I completely go bananas because they won't listen.

NO WEDDING OR PROM DRESSES to buy !!!!!!!

They will be able to share a bathroom FOREVER. No space issues!! (ETA: or having her yell at them because she needs to do her makeup or they left the lid up and they won't yell at her that they JUST need to pee and she's been getting ready for an hour now)

Now a couple of "down sides" that are really kind of absurd
Lucas becomes the middle boy and no longer the baby boy

We run into who will share and who will not (right now Will and Lucas Share a room)

I already have clothes so have no VALID excuse to by much more

um……………………..nothing?
UP sides to a girl
Charlie gets to have a Daddy's girl and Will said he REALLY wants a sister

I get to carry on that mommy/daughter bond I have with my MOM.

I get to SHOP. A LOT. WOOOOOOOOOOT!

Lucas gets to keep baby boy status!
"Downside" to a girl
She's going to hog the bathroom and someone will have to use ours

I'll have to learn to help Charlie clean the guns when she starts dating

I'm going to get in BIG BIG trouble shopping for her.
So there you have it. The "pros" and "cons" (if you can call them that … they are kind of silly).