This post contains an Amazon affiliate link.
Here is an updated post with video of how I manage with the vacuum.
Hoover Linx Platinum Cordless Stick Vacuum Cleaner
There.
That was a mouthful.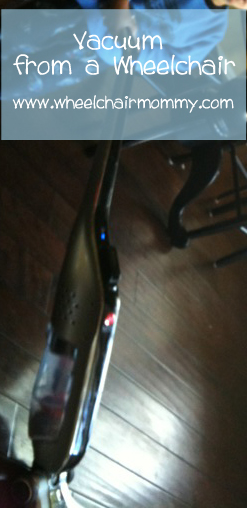 Anyways. I highly recommend it to ALL wheelchair users and people that feel they need to vacuum many times a day because of a cat, dog or kid. Or people that make their kid do the work for them.
It is priced a bit high for being so small though and the battery doesn't last for my entire hard floor house, but it's over 2000 Sq.Ft. so that would be unreasonable. I now have a second battery and life is really good.
This review is entirely my own. Hoover doesn't know me from Adam and they certainly never sent me a thank you when I bought it at Wal-Mart. If it ever dies, I do plan to replace it. I won't let my emotions for it get in the way of bringing it's clone into my home.