Typhoon Texas Austin Pflugerville invited us out as media for opening night. All opinions are my own.
The opening night for Typhoon Texas Austin Pflugerville was last week, and my boys were very excited to attend. We drive by every day so we've been excitedly watching the changes.
Gully Washer – Happy Adventure
Typhoon Texas did not disappoint us, it's very family-friendly. Kids of all ages can enjoy the new Gully Washer – Happy Adventure. My (almost) 6 year old and 9 year old absolutely loved it. My 12 year old even checked it out for a bit. I was shocked, too!
My 6 year old stayed in the Gully Washer – Happy Adventure part of the park for the almost 3 hours straight. The 9 year old ran off with his brother for a few big kid slides but he came back here to finish off the night.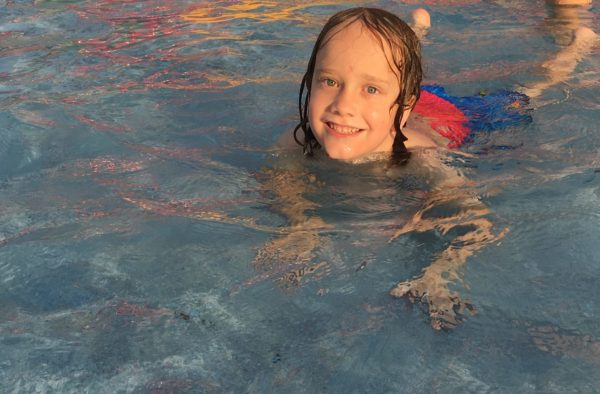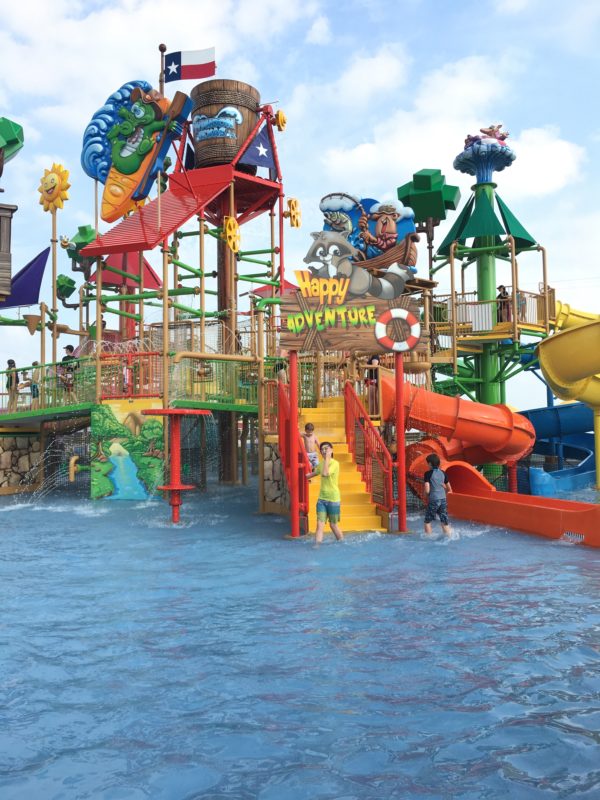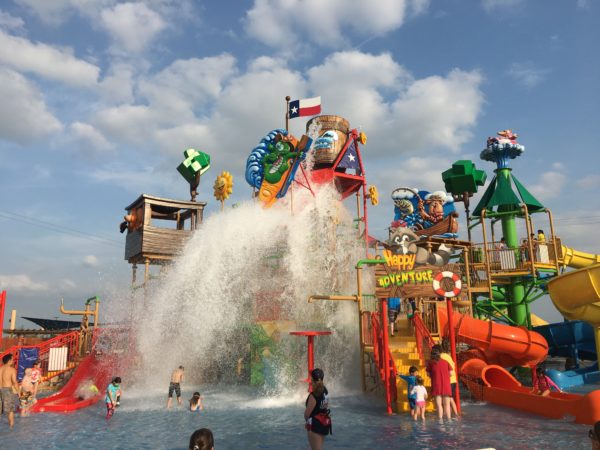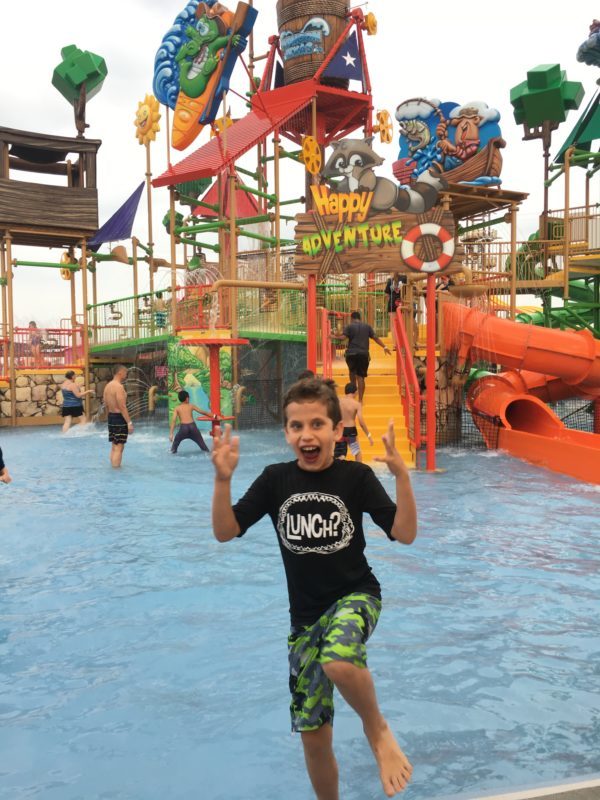 Park Information
Most importantly, PARKING IS FREE!!
The adventure park IS INCLUDED. Zip lines are extra.
There are some really fun touches all over the park, like this old car and truck. I bet there is more to see, I just didn't have time to explore every inch of the park.
My 12 year old did note that the old SAND PIT is now a nice deck, so you will no longer be stepping in sand or worrying about your little one having sand stuck to his wet skin.
I was eavesdropping just a little and I heard people making comments about how CLEAN the park looked. I have to agree.
One of my favorite changes is they now serve alcohol! I saw plenty of moms and dads drinking beer, and rumor has it there will be a full bar. I'll have to get back to you on that one.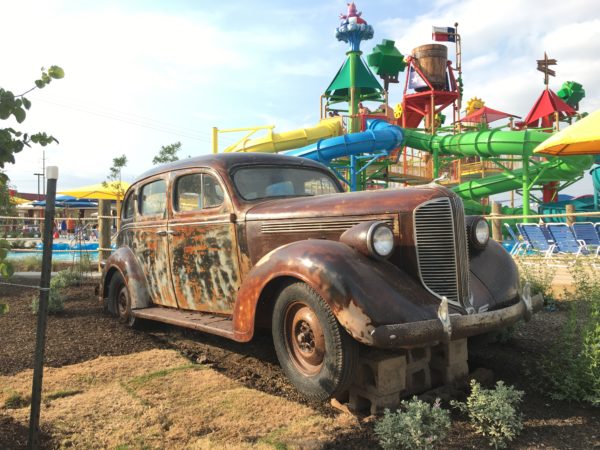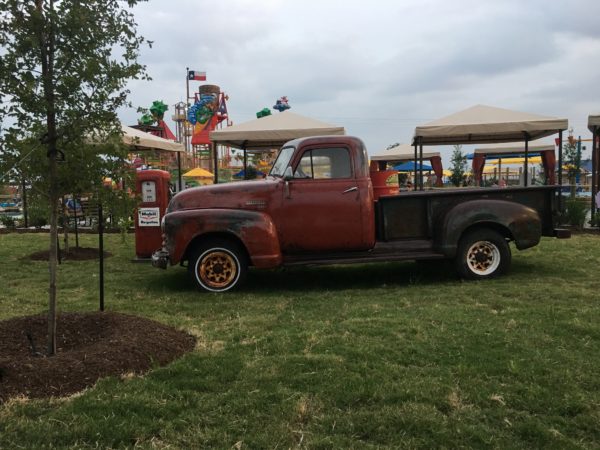 Food
You can't spend a hot day in the sun without a little sugary syrup. Shaved ice to the rescue! As you can see we did not order orgnge, hehe, but instead opted for the grape. These had plenty of syrup and I love that the plastic cup didn't collapse on us like the paper cups you sometimes get when you order shaved ice.
There are multiple places to eat, all over the park, including pizza, hamburgers and hot dogs. No one will go hungry!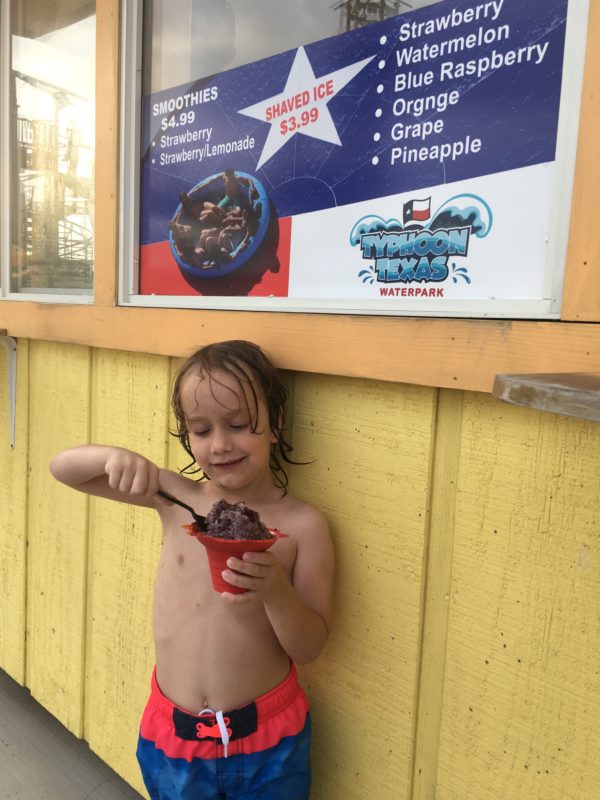 Lockers
Typhoon Texas also offers locker rentals. I don't think the previous park offered these.
You can rent a standard size for $8 (good for one backpack), large for $12 (good for 2 backpacks) or a JUMBO for $16 (good for 3 backpacks.

Little Kids
Typhoon Texas Austin Pflugerville installed a BRAND NEW filtration system. The water in the park is CLEANER than the water from your faucet so while the idea is still pretty gross, if your little one is caught drinking the pool water, it's safe!
Speaking of little ones, if you have kids under 3 and you are a little too nervous to let them play in the Gully Washer, you can hang out in Buckaroo Bayou. It's a fun little splash pad, with 3 slides, right next to the Gully Washer.
How cute is this?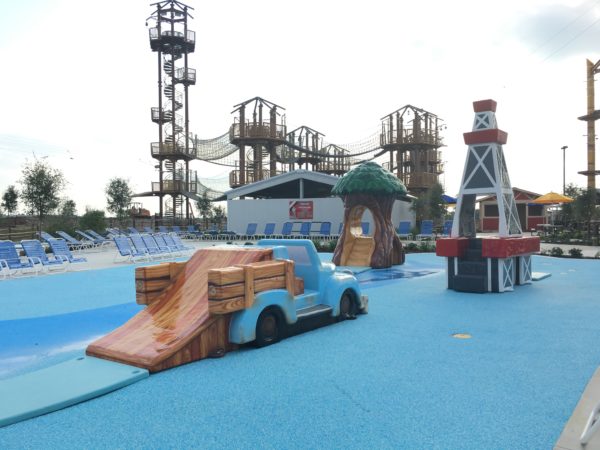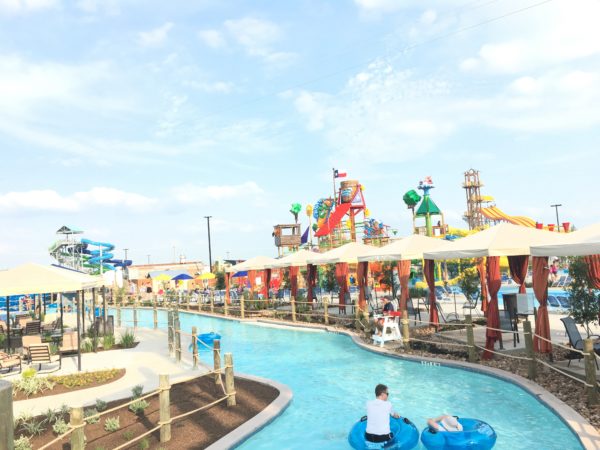 Cabanas
Maybe I'll see you there this summer. Hopefully you will find me sitting in my cabana with a herd of cabana boys catering to my every whim ….
Oh, wait. I'm still a mom so I will be watching the kids splash down all the slides and they will surely give me panic attacks while they get lost in the crowd in the wave pool!!
It is a nice thought. Maybe, some day.