This post is sponsored by Thumbtack. #Thumbtack #austinthumbtacks
My need for Thumbtack.
If you've been following along, you knew we had an extremely rough Spring. My step-dad died and immediately following his funeral, I was in the hospital for a week with a strep infection, inside my body (NOT my throat!). When I did finally get home my body was fighting to heal a sore that was caused by the surgery that discovered the strep. Are you still following?!
I was in bed most of the day for the better part of 6-8 weeks. One can safely assume that taking care of the house was not a priority as I worked on healing. Charlie worked on keeping everyone feed and he did his best to keep things tidy.
I don't even have to tell you what can happen to the condition of your home when you are not actively cleaning on a regular basis. My husband tried. He REALLY did.
Thumbtack contacted me at the perfect time because I was actively looking for a maid service. I hadn't hired anyone yet so I was more than happy to find out more about thumbtack. The process couldn't have been easier.

My experience with using Thumbtack.
It really could not be more simple. I started my initial project while on my laptop and within a few hours I had a bid. I happened to be on my phone when the bid came in and I quickly realized I needed to download the app. The thumbtack app quickly and easily connected to my account. I was able to privately chat right then and there with the maids that were bidding.
I had at least 6 bids by the end of the day. I was able to easily "hire" the company I wanted. When I did this it stopped anyone else from putting in a bid but still allowed me to talk to them and of course the person I hired.
Most of the maids wanted to give me their phone number so we weren't chatting through the app. I was okay with this once I made my hiring decision. Thumbtack confirmed that this was not against the rules. I didn't want to hire a rule breaker.
No money changed hands through the app, I paid my maid directly after she completed the job. Christine did a fantastic job and we plan to keep her around for as long as we can fit it into the budget.
Oh and we decided to hire a painter, too! The app became addicting. Thumbtack's process was that easy.
Okay. I'm exaggerating just a little but I am super excited to finally have FRESH paint on the walls! He's currently here now but here is a sneak peek!! You will have to come back by later this week or next week to see the full reveal!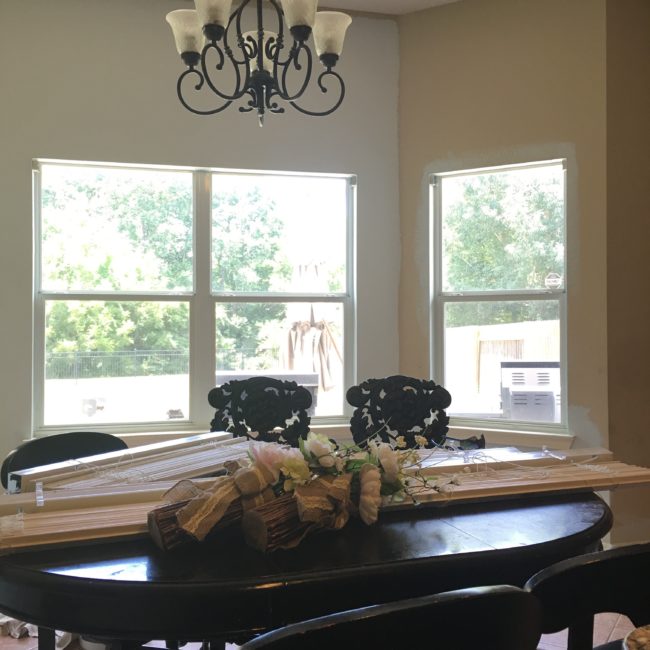 More about Thumbtack and Fascinating Facts About Austinites

Thumbtack is the destination to get stuff done – learn a new language, get in shape, remodel your home… Thumbtack's local services marketplace connects people who need to get things done with skilled professionals. Tell Thumbtack what you need. Get free custom quotes. Hire the right local pro for you.
Thumbtack, a company connecting customers with the right skilled professionals to get things done, looked at activity data from users in Austin, Texas and the U.S. to learn more about what's trending in the city.
Some things they found include that Austinites:
STAY TOGETHER:
The demand for divorce attorneys is almost 70% less in Austin than in Dallas. Demand for relationship counseling is 70% greater in Austin than Texas as a whole.
DON'T LIKE THEIR NEIGHBORS:
There have been over 1,800 fences installed or repaired in Austin since January 2015, a 122% increase over the previous year.
HATE TO CLEAN:
Over 12,000 Austinites have hired a cleaning service since the beginning of 2015, up 91% from the previous year. Upholstery cleaning is up 525%.