I was compensated by AT&T for this post.
I have been sharing my life through technology in one way or another for many years. I have never let my spinal cord injury hold me back and I want to encourage other people to do the same.
Some might even say I "live beyond limits". Maybe I do, but I think I just live my life. I live my everyday, ordinary life, and it just so happens to be on wheels.
Now that we are talking about technology, I have a confession. I'm a little addicted to my phone. My 11-year-old even called me out on it after watching my video (see below). Something I said caused him to draw the conclusion that I was addicted, but of course he admitted we all are.
He is definitely right. I use my phone for texting. I use my phone for email. I use my phone for social media. Ironically, I use my phone for everything but talking. Do people still do that?! I'm kidding of course! I talk to my mom on a very regular basis. She lives to far away, so it's the next best thing.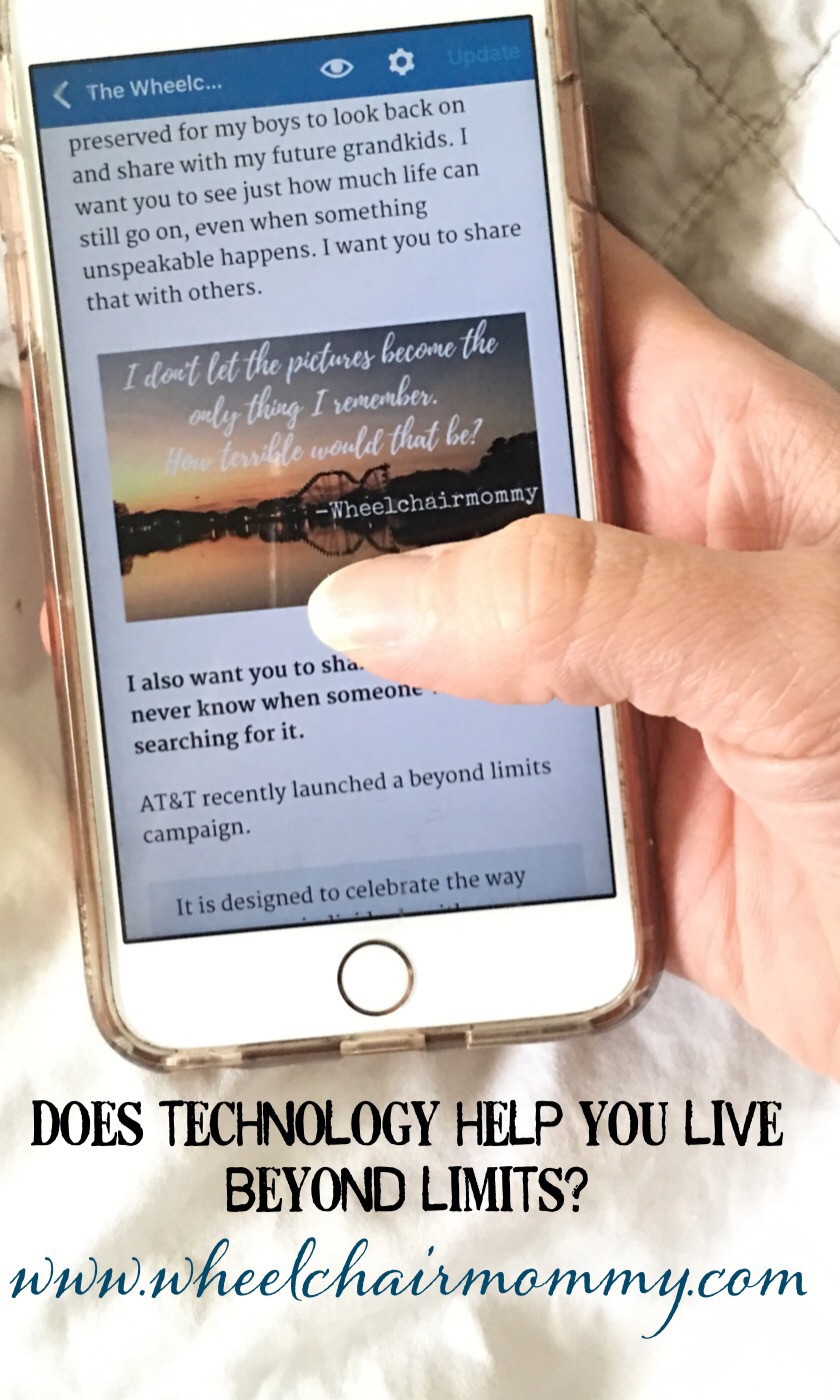 Now is my "addiction" a bad thing? Yes and no. It's a bad thing because my son noticed, but it's a good thing because it helps me preserve all the wonderful things about our life when my phone is put away.
I really try to take a few pictures here and there and then just live in the moment. I will later go back and write about the experience (sometimes on my phone), but I don't let the pictures become the only thing I remember. How terrible would that be?
I want to remember every moment and I want to share it with you. I want to be preserved for my boys to look back on and share with my future grandkids. I want you to see just how much life can still go on, even when something unspeakable happens. I want you to share that with others.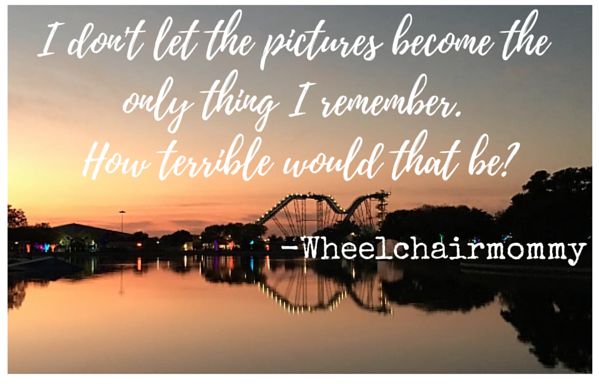 I also want you to share your story. You never know when someone will be searching for it.
AT&T recently launched a beyond limits campaign.
It is designed to celebrate the way courageous individuals with disabilities are using technology to live beyond limits every day.
Share how you live beyond limits for a chance to win!
AT&T is commited to providing services to those of us with disibilities and they know accesibility is a commitment to help connect people to the world around them. They understand that accessibility is not just a word.
AT&T is hosting a beyond limits contest that gives people with disabilities and those that support them a chance to win an all-inclusive trip to the U.S. Olympics Training Center in Colorado Springs, CO.
I want you to enter! All you need to do is submit a video showing how technology has changed your life. How has technology helped you live beyond limits?
Here is the AT&T beyond limits contest page.
Learn more about the contest by visiting AT&T's Beyond Limits Webpage
If you are looks for ideas of what to include in your video check out this page with 3 videos from other incluencers.
Here is My Living Beyond Limits Video.
P.S.
Don't forget to leave a comment telling me how technology improves your life!