This post originally appeared on Scary Mommy back in April 2011. It was 2 months after we found out Nathan was coming. Our 3rd boy. People kept asking if I was okay with it and if we were going to keep trying. It was quite frustrating and frankly it still is. So this post was born in response. Yes I wanted a girl,but I also wanted a boy. No I was not disappointed and I had NO IDEA if were were going to keep trying.
She would have been.
She would look so much like me, people would sometimes mistake us for twins. The only thing setting us apart would be the chair. We would shop together and get weekly manicures on our girl's day out. We would frequently have lunch and talk every day. She would confide in me. I would cry when she tried on her wedding dress and again when I watched her Daddy walk her down the aisle. I'd cry again when she had her first baby.
We weren't always best friends, in the beginning she was a precious little bundle of pink with silky hair. She eventually grew into a toddler that had more meltdowns then any child I've ever known and after that we would butt heads day in and day out every time I told her "NO!".
Who is She? Her name would have been Chloe. She could have been my daughter. She's really just a fantasy. She never existed; not even for a moment.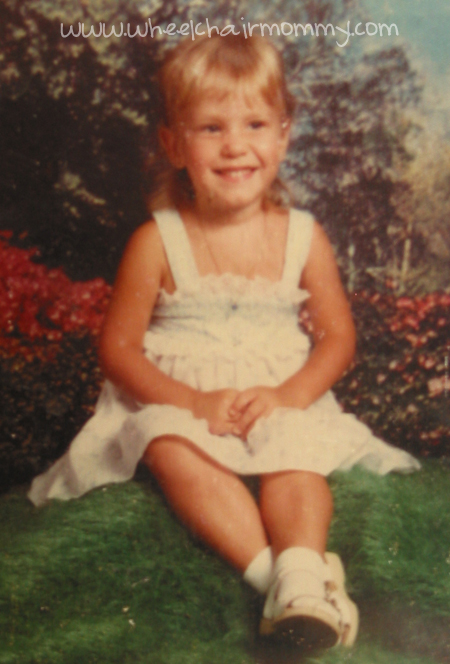 I would never in one thousand lifetimes trade my boys for this "daughter", but that doesn't change how much I would have liked to have had her be in my life.
I have such an amazing relationship with my Mother and I wanted to have one little girl that I could share that with.
I know I will never help my Chloe find her prom dress or comfort her as she cries over her first heartbreak, but what I will get to do is raise 3 amazing boys. I will get to watch them learn how to treat a lady and some day I will welcome not ONE but THREE beautiful daughters into my life.
We won't look alike, we won't likely be best friends, but I will cry when their Daddys walk them down the aisle and again when they have their first babies. My grand babies.
I will cry tears of happiness and sadness when they become the most important women in my sons' lives.
I am more grateful then words can express to have 2 (almost 3) amazing little boys. However, a tiny part of me will always wonder if the story in my head would have been at all close to reality.