Today I would love if everyone welcome LuAnn. She is sharing her joy about adaptive sports.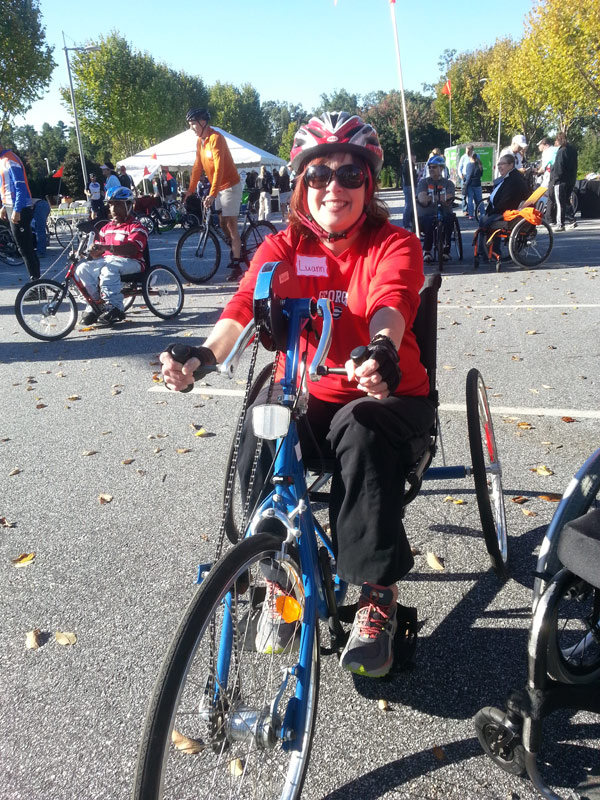 I fancy myself an athlete. Other than a love for almost all sports, there is no actual evidence to back my own estimation of my athletic gifts. Natural ability or not, I am always willing to try new things.
The only adaptive sport I somewhat regularly participate in is mono-skiing. Which isn't all the regularly considering I live in a state with very little annual snowfall and no ski resorts.
Lucky for me the rehabilitation hospital here in town has started a new outreach program that focuses on adaptive sports. So being brave and harboring delusions of greatness, I signed up to participate in a few recent events.
I participated in clinics for adaptive golf, hand cycling and sled hockey. Adaptive golf is the only one out of the three that I had previous experience with. As you can see from the pictures I need to step up my fashion game when I show up for these things.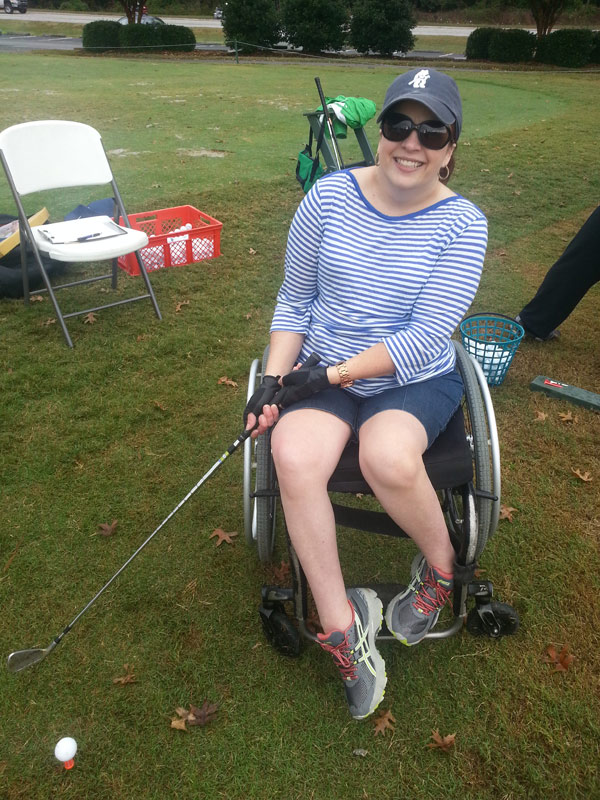 I have made a mental note to do much better with that when the next opportunity arises. Fashion faux pas aside, I really enjoyed all three outings. Not because I proved once and for all that I have gold medal winning potential locked inside me, because I successfully proved I don't. I enjoyed them because I was lucky enough to spend time with others with disabilities. And the opportunity to participate in sports.
I would venture to guess that for those of us who acquired our disability by way of some accident or onset of illness, we spent time in a rehab setting. During those heady days we met others with disabilities and participated in outings and events geared towards introducing us to adaptive sports and recreation.
But all too often once time in rehab ends we lose some of the opportunities to participate and socialize. Partly due to distance to the facility we recuperated in, but mostly due to the fact that once we return to our everyday lives, most of us leave rehab far behind. Which is a good thing in some ways.While I was in rehab my biggest goal was to return home and to my "normal life".
But once I did I realized that no one else in my life has a disability like mine. While family and friends are often the most effective support system we have, if they don't have a disability, there is only so far their understanding and empathy can go.
During these recent sports events I was reminded that there is something comforting about a shared experience with someone else that gets the fact that transferring to the ground and back up with any grace is hard.Someone on the ice with you that knows enough to remind you that the picks on a sled hockey stick can pierce your pants and your leg, a thing that is easy to forget when you can feel it when it happens.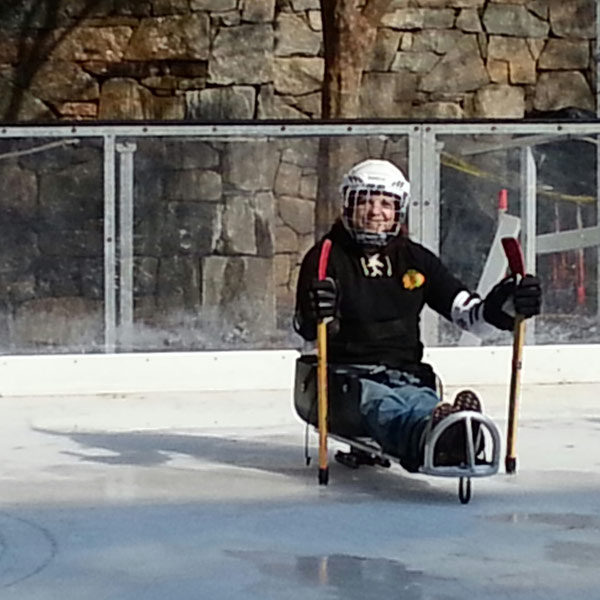 I highly encourage anyone interested in adaptive sports to look around your local area for any opportunities. If you don't find anything local consider making a day trip or weekend getaway to a place that does offer adaptive sports or recreation.
With the everyday responsibilities that most of us have its easy to forget how these activities can revitalize the body and mind.
Best of all, you just may be reminded that even though life can throw any of us curveballs, big nasty 80 mph curveballs sometimes, there are people out there that get it.
They get it and they know all about picking up the pieces and going on with the game.