This is NOT a compensated post, I just love to share Mothers' Milk Bank info when I can. I can't donate milk, money or my time, but I can donate my posts!! 
Last week Mothers' Milk Bank of Austin launched their NEW "You'd Make a Good Donor" program and I LOVE it. The campaign includes new print, broadcast and online advertising.
I immediately feel in love with this one: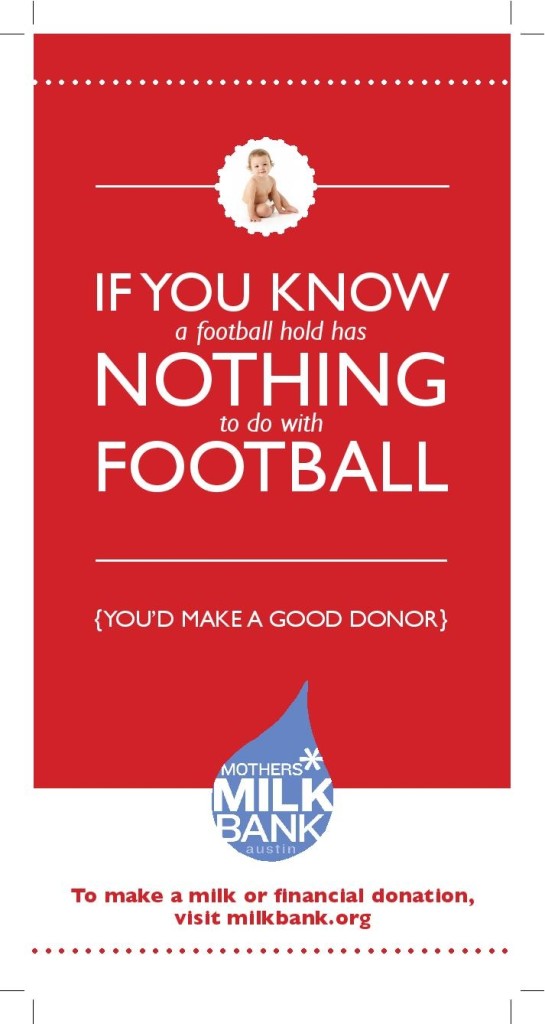 I fought SO HARD to avoid this hold with my first baby but once I finally gave in – it made everything SO much easier. Not easy. Breastfeeding is far from easy. However, it made handling my new teeny tiny baby so much for manageable.
I was fortunate that though tiny, my babies never had to spend even one minute in ICU, not even my 36 weeker.
Not every mom can say that. Some babies are born too early and have to fight.
Sometimes the ONLY thing they can drink is Mother's Milk, but their Mommy can't give hers yet or doesn't have the nutrients they need.
That's where Mothers' Milk Bank comes in. Mother's Milk bank does the work of getting the formulas right for the individual babies. Sadly, they don't always have enough and can not currently fill all requests for milk. This breaks my heart. Someone has to decide which baby needs it more or which baby is more likely to survive.
That's where YOU come in. If you are currently breastfeeding, consider donating.
If you are looking for a worthy cause to donate to, send them money so they can use it as they see fit.
If you are bored now that your kids are in school, consider donating your time.
If you know someone who is nursing, mention the ads to her and maybe she will donate.
PLEASE. Helpe The Mother's Milk Bank of Austin so they can someday have so much milk not one single baby has to go without.
So if you live in Austin and happen to see the billboard at 183/oak knoll send me a tweet.
You can find information on how to donate at the Mothers' Milk Bank Austin website.