Green Light Ahead by daveynin, on Flickr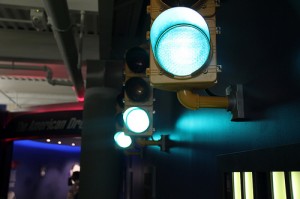 When I had Lucas I had a placental abruption and almost had a uterine rupture. They repaired it and then I was advised not to get pregnant again. Ever. It wasn't safe.
I was devastated. It felt like my heart was ripped out of my chest. I had 2 healthy boys but I didn't want my family to be finished. Yes, I was blessed and had more than most women but that didn't change that I wanted my family to keep growing.
We decided to go see a high risk specialist. That's why I was so nervous and scared. I was afraid he was going to agree with my doctor and that would be that.
Well. That is not what he said. He said – yes it there were several little things we had to watch for but non of them were things we couldn't catch early, control or do something about. So. YAY!
I am so happy to know that I can have one more baby. That will be enough. I can decide now, that 3 is enough. There is just something about being told you can't or shouldn't do something that drives me up the wall.
My paralysis is enough. I can't walk. That can't be changed. This is something I can control. I can decide when I want to be done and when I don't! That is a good feeling.
Now we decide WHEN to try. Not yet. 🙂