This post contains affiliate links.
I get asked many strange wheelchair questions. If you haven't read my FAQs you should start there. These questions will answer the most COMMON parenting questions I get. Please feel free to ask anything I did not cover.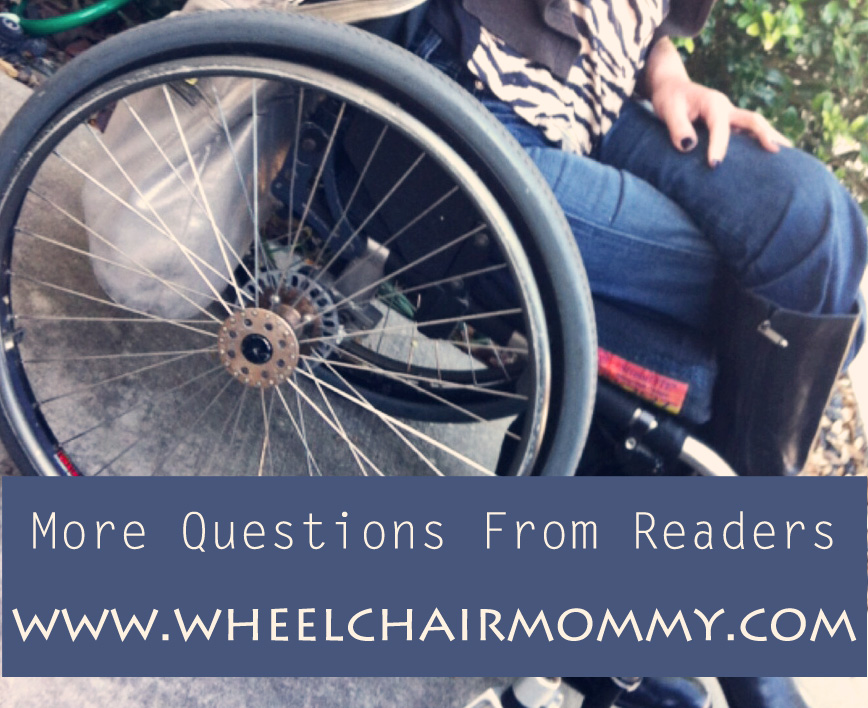 1. Your husband works from home so he can help you right?
No. He does not. He leaves for work around 8-9 and returns around 6-7pm. On a good day. A bad day? Who knows when he could be home.
2. Do you have help? like a nanny?
No. It's funny how often I get asked this question. No, I don't have a nanny. No my babysitter is not "live in" or every day. My "babysitter" is just that. Someone that babysits so I can go out with my husband without the kids. Not often, but sometimes we do. I also have a babysitter that will watch a kid or two when I have an appointment they shouldn't come to. I mentioned my babysitter to a nurse and she was very worried about what I was going to do until she was better. She thought it was someone that came everyday. Nope. We just needed her for the appointment but she had to cancel so the boys tagged along anyways.
3. So if your husband takes your son to school, who picks him up for you?
That would be little ole' me. However we homeschooled for a few years. Now my boys are back in school and they walk to a from. I keep forgetting to buy them a poncho. I should do that before it rains.
4. How do you get your kids and yourself in the car?
My oldest and my middle buckle themselves in. The baby? A video might be best. He's 4 now and doing the buckles all by himself 90% of the time.
5. How do you change a diaper?
6. How do you push a stroller?
The same way I push a buggy. Duh. Like this. I like the bugaboo best. It has fantastic steering. If that is just entirely out of your budget Peg Perego makes an option. It only lasted for my first kid though, so I wish I had bought the bugaboo first.
7. HOw do you carry your baby?
In a sling (hotsling is my favorite, they have such CUTE patterns!) or in my lap …. Well, either way that's in my lap ….
I didn't have a sling with my first and I strapped him against me with the seatbelt that was on my chair. No seatbelt on current chiar.
When they were REALLY little a Boppy pillow in my lap was VERY helpful.
8. How do you pick your kids up off the floor? (thanks Katie)
I think this one requires a video.
9. How do you get your kids out of the crib (thanks again Katie)
I never got video of this but I just rolled up parallel to the crib and reached in. Don't spend too much. It will get scratched.
10. How do you keep little fingers out of spokes? (thanks @QKnuckles)
It's never been an issue… I've always just been adamant and consistent
11. What do you tell your kids when people treat you differently? (Thanks @Mariahhumphries)
That would require people to actually treat me differently. 🙂
If opening a door for me or getting something off the top shelf is treating me differently then I tell them how nice it was for that (wo)man to help. If people offer to help when I don't need it I politely decline.
Was there a more specific act you were wondering about!?
12. Oh, I have one. I think of my kids and how when they take something they aren't supposed to have (a cookie, the remote control, etc.) and I have to chase after them, often through multiple rooms of the house, I wonder how someone in a wheelchair would manage those type of parenting moments? (thank you SUnday Stilwell)
Good question. How do you chase them? With your feet? I chase them with my wheels and my wheels go MUCH faster than your feet. 🙂 Unless I'm on the couch, then a transfer slows me down, but they will still be in trouble. They've been very good and respectful. They always ask. They don't always like NO but I rarely have to chase them.
My oldest "Ran" from me in the mall ONCE. He didn't want to go in the store I was going in and ran off. He quickly got "lost" in the crowd. I could still see him and knew he was ok but if scared him so badly that he's never done ANYTHING like that again. SO far my middle hasnt done it but I am sure he will. Same for the little.
13. Did you cover your baby's head when he was eating? Well, not usually but on the rare occasion there was someone that just couldn't handle that my baby needed to eat (the horror) so I used a HOOTER HIDER. Again. Such fun prints. The ones I had are no longer being made of course.
14. Can you recommend a book? My friend was recently paralyzed and her kids are scared. I always recommend this one. It's short and sweet.