I first started seeing the posts for Blog Elevated about 6 weeks ago. I can't justify the expense of out of state conferences so I was thrilled this one was in Galveston. Sure, it's a bit of a drive but when you're in a car with a girlfriend or two the time flies.
I first made plans with my dear friend Traci and when we were at Adventurecon we invited Kami to join us. So the plans, as they currently stand are: Traci and I drive to Houston, Pick up Kami and head to GALVESTON, at the end of September!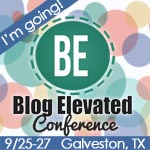 I seriously CAN NOT wait! The speaker line up looks fantastic and 3 days away? It sounds like HEAVEN!
Earlier, I sent out a Top 10 packing list on instagram and promised I would explain them, so here goes! I clearly left off the obvious stuff. These are the things you may not realize are 100% important!
1. Cute Statement necklaces : Because we ALL know looking cute at a blogging conference is SERIOUSLY a competition. A statement necklace can make or break an outfit.
2. Cookies N' Cream Protein Bars : Becuaes You will be GOING AND GOING AND GOING and may not get a chance to eat. You need fuel.
3. Cute Cardigans : See #1. You don't want to RUIN your outfit with something frumpy. You don't want to be cold if they keep the conference rooms COLD either so you need VERY cute Cardigans that compliment your outfit AND your statement necklace.
4. Wine : Because, you will be in a hotel room with people you love and who doesn't want a glass (or 4) of wine to wind down SANS kids!?
5. Awesome Shoes : See #1 and #3. Shoes also make or break the outfit, BUT you want to make sure they are comfortable. This one is VERY tricky so think HARD about your choices.
6. Concealer : See #4. Surely after a glass or two of wine you will be EXTREMELY chatty and you and your roomies may not get enough sleeps DESPITE what you promised yourself about taking advantage of the time away from your kids.
7. Comfy Jammies : See #4 again. You don't want your friends knowing you REALY wear your old panties and ratty shirts to bed.
8. Swim Suit : Because you are in a HOTEL. HOTELS have pools. You are SANS kids and can ACTUALLY soak up the sun or go for a swim WITHOUT A CHILD CLINGING TO YOU!
9. Chargers : Surely I don't need to explain this one!?
10. Buiness cards : you will be meeting HUNDREDS of new people that you will want to and need to connect with. YOU need to give them your card. EVERY. SINGLE. ONE!
Okay so that's it. 🙂
Are you going to Blog Elevated this year too!?