I'm going to start a new series where I post questions I get from my readers and answer the question. . . hopefully others can chime in and offer their tips and advice as well!
I will try and do this the 2nd and last Friday of every month.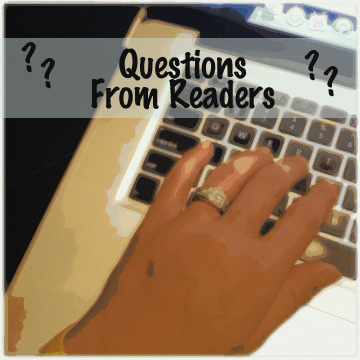 Some of these will be very personal so if you do not wish to know certain details of my life, proceed with caution.
My first question is one I just got tonight from Lee. She's a stay at home mommy like me, has no outside help and wants to know what I suggest she do with her son while she takes care of personal needs. It's not as easy to just run to the bathroom for those of us in chairs. We have to do things you'd never even imagine and Lee feels that her son is getting to the age where she needs to start giving herself more privacy. What should she do with him while she tends to these needs that could take from 5-10 minutes.
That's really a very tough question that I've often struggled with. Honestly, I've gotten to where I am able to do things more discreetly than Lee is able to so my only suggestion is that she let him watch a TV show or reserve a special very fun toy just for these times during the day.
Of course, try and time things so that at least one of your bathroom needs coincide with nap time.
Now that I have 3 kids, my oldest two can keep the little man occupied so that has been a HUGE help.
I hope you can figure something out that works for you Lee.
If you are also in a chair, what did you do with your little ones when you needed to tend to bathroom needs?!