This weekend was the 100th anniversary of the Titanic sinking.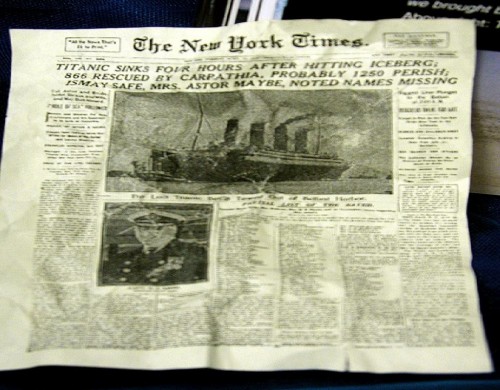 William loves anything and everything Titanic and as his Mother made the decision to take him to see the 3D re-release of the 1997 movie.
Guess what he says within the first 5 minutes? He calls out a HUGE mistake. The Titanic had 4 smokestakes. Only 3 were "real". The last one was purely cosmetic. Mr. Cameron royally screwed up. All FOUR smoke stakes have smoke coming out in the movie.
FAIL.
Leave it to my 7 year old to notice that mistake. There was something else that happened and he said it was wrong  too. I believe him because this kid has read at least a dozen books on the history of this ship.
We had a great date day. We've been going on "dates" since he was really little.
I just started it with Lucas, too.
It's a very special time.
I hope they always want to have a Mommy date.
Wishful thinking, I'm sure.
I want to talk about the movie again for a minute. I don't remember seeing any of the real footage the first time I watched the movie, or at least it looked like real footage. There was real footage when they were still in the docks, right?! Seeing potential REAL people that likely didn't make it, made it so real and so sad. The sinking was such a horrific event. Trying for just a second to put myself in anyones shoes just makes me want to cry. Thinking the fear they must have felt. Their familes. THOSE BABIES! Oh, my gosh the kids that died. It just tears me up.  Anyways, seeing it again as an adult, A PARENT and exactly when it happened 100 years later. Wow. It was emotional. I can't imagine what this weekend was like for the children and grandchildren of any of the survivors.