Literally, I am. In 12 years I've only had one other complication. I hate when things go wrong,
There is no need to read into the title of my post. I'm still me. I still love life and my family. I'm NOT depressed. or angry. I'm just in lots of pain.
It all started on the 29th (thursday)- it came on gradually and continued to get worse but I was able to sleep some. Friday morning, I was screaming in agony.
There were no if, ands or buts about it. I had to go the doctor and I had to go now.
Except I don't have a "regular" doctor. I just haven't had any needs to warrant a regular doctor.  My  ladies parts doctor took care of the major stuff at my annual. I guess I need to find a regular doctor. It's at the top of my list now. Wherever that list is …
Back to the pain. The doctors are still at a loss (see they are kinda LOST) and aren't 100% sure what to do so they are running ever test possible and contacting the part numbers to track down who my doc used.
Just an FYI – Its taken me 30 minutes to write this much. I can't stay focused and I keep have DEEP sleep dreams that I think last at leas 1-2 minutes and the dream itself a bit longer). It's a strange feeling. 
So parts. They are tracking down the part number of the rods in my back because they are broken — SEE BROKEN.
There is a good chance I will have surgery to remove all or some of the metal. (titanium to be precise .. IT'S NOT SUPPOSED TO BREAK)
It's been a long 5 days.
It's beoming really stressful. I can transfer myself because it hurts to Charlie has to do everything for me. It's not really big stuff but it still sucks to need help with stuff.
I'm trying to do my scooting around and pressure relieving on my own.
It hurts if I move  or not and I haven't been told to stay still, so I think wiggling is best.
I also had to take off all my rings today. I took them off before my MRI and then put them back on. It's habit. They belong there. So I put them back on immediately. More talk about surgery made me try to get them off right away. I don't want to know what fixing broken rings cost. They eventually came off but I was afraid we'd have to cut. We did not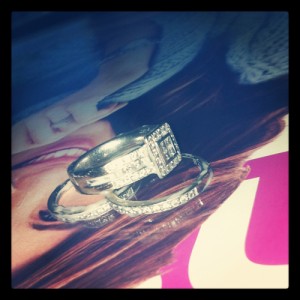 I feel like post is all jumbled up and probaby sounds like I'm out it, and that would be because I am.
I'm so appreciative that my mom is here taking care of the big boys and they I have friends wiling too help with drop off and another with pick up.
Typing this was difficult enough. I'm NOT proofreading it. sorry. I'll conclude for now.  Hopefully I will eventually be better again and back to me. It's hard to be me with all the "good stuff"
h=