My husband bought his dream car about 2.5 years ago.
We call her Scarlet. Yes, as in The Scarlet Letter.
I joke that she is his mistress. You should have seen him pouring over pictures of her before we decided she should join our family.
Here she is:
She was considered a "family car" until 3.5 months ago. Really. She was. We all fit. Yes, even the wheelchair. Now that Nathan is here we do not.
She does get to stay but I seriously need to learn to drive her. We had hand controls installed over a year ago and I've only driven Scarlet one time. In a parking lot.
She's a lot of car, so it's scary. Truly.
Sadly, or not so, Scarlet has made me jealous. I'm not jealous of how much time she spends with my husband, no that I can handle.
I'm jealous that I do not have my dream car. Instead I rock the mini van. Really. I know how to still look cool driving it.
So…my dream car? Mercedes. It doesn't have to be a particular model, but as far back as I could remember I've always wanted one.  I wanted (a husband and) kids and I got those, but where is my Mercedes?
I don't want the same Mercedes I wanted when I was 12. It had to be black with gold trim, NOT silver. Pimp my ride, anyone?
Today? I want something clean and classic. White with subtle silver trim.
If you follow me on twitter you probably noticed I visited one or two (or 6) car dealerships over the weeekend. We were kinda sorta, not really looking but we both really feel more in love with the brand when we sat in one and drove one.
Maybe I'll get my MIHLF (Mom is having lots of fun) mobile sooner rather than later?!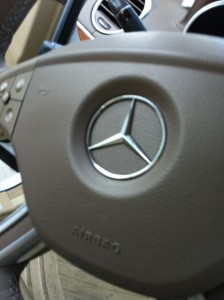 For the record, the "airbag" visibility on the steering wheel was not lost on me and my vain post about luxury cars.
Moving on. I would like to make Monday a link up day. So…. here goes. If you have a current post that talks about your glorious weekend or a post that talks about your dream car, link it up. Please.