I filtered through all the very brief blog posts from my first pregnancy in 2004 and compiled them into one post that is easier to navigate. It will obviously be long, but I hope you find something helpful.
The most pressing question I had for my doctors 15 years ago was about pregnancy. I was 18 and being a mom was incredibly important to me. I couldn't imagine not experiencing pregnancy.
Let's fast forward to April 11, 2004. I was pregnant for the first time and my baby was due sometimes in mid-December. My husband and I were 15 months in our marriage and I was so excited. I even took a digital test so I could see the words, two lines wasn't enough.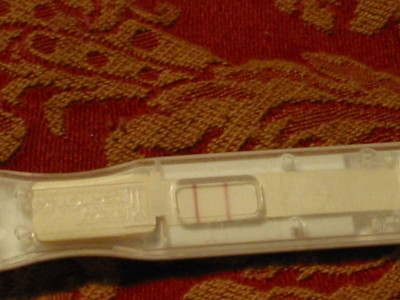 My husband was scared. Finances were tight, but I knew we would be able to make it work.
I didn't know any other wheelchair mommies. I found an amazing doctor, but I was his first SCI pregnancy patient. We were going to learn the process together. He confirmed my pregnancy on April 23rd.
His practice did not have an official accessible exam table, unless we used the ultrasound room. It wasn't an obstacle for me personally, because my husband came to each and every appointment and helped me up. We knew if there was ever a reason he couldn't make it, we would just use the other room.
My morning sickness, fatigue and pregnancy hormones slowly kicked in, as did the strange food cravings. Bananas and Doritos? Yuck! I was crying over soggy french fries and episodes of A BABY STORY.
I still remember the first time we heard our little "bumps" heartbeat and saw that precious baby on the screen. There wasn't much there but it was my baby. It was OUR baby.
I hit my second trimester on June the 9th, 2004. The pregnancy was flying by. We were able to sell our house and my husband's stress levels went down. He was starting to relax, but he still did not approve of my desire to stockpile diapers.
I grew gradually and never once felt it threw off my balance or my transfers. I gained close to 7 lbs by 15 weeks. I felt the baby kick around this time. The kicks were my favorite part and what I miss most about being pregnant. There is nothing that compares to feeling another human grow and move inside you.
On July 27th we have our "big" ultrasound! The doctor was 75% sure we were going to have a girl!! We had another ultrasound on September 21st and he nervously asked, "What did I tell you the gender was last time?". He knew he had told us girl and he was definitely wrong. We were not having a girl, we having a boy!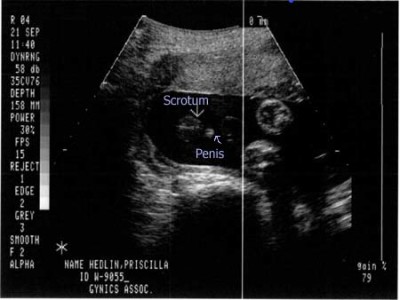 Of course this lead to all sorts of discussions. What if it's twins. They do run in my family so it wouldn't be a total shock, but no, we only saw one baby in there. One VERY healthy boy, and no one knew about it yet. I was keeping the gender a secret until my shower. It turns out I started a trend and now everyone has "expose the gender parties", but now they called it a gender reveal party. My name for the party was much better. I revealed to my friends that I was going to have a baby boy towards the end of my shower. Everyone wrote their name on a piece of paper and dropped it in a pink or blue jar. I drew a name out of the correct jar and asked them to tell everyone what their guess was.
Sometimes in August I started to get full very quickly. Baby was growing and my stomach was shrinking, but that did not stop me from my almost daily frosty from Wendy's. I think they knew me by name. My weight gain skyrocketed to a whopping 16 lbs by 24 weeks. That was nearly 2/3 of my recommended weight gain.
Baby was growing and was finally big enough that Charlie could hear the heartbeat if he put his head on my belly. The baby even kicked him once. That was an incredibly fun experience.
Throughout the entire pregnancy I was still able to live completely independently. We never had to take special precautions. My paralysis was not a factor in my care.
As I neared the end, we discussed delivery. I had titanium rods and couldn't bare down while lying down. I had huge concerns that I would try pushing and not be able to deliver vaginally. My doctor agreed that this was a valid concern. We opted for a medically necessary cesarean. I would go in fresh and I would know exactly what to expect. There would be no disappointment or frustration. We would show up on December the 8th at 5 am and we would bring my first baby into the world.
We even met with the anesthesiologist, and he was certain he would be able to do an epidural, so charlie could stay in the room for the delivery. He avoided general at all costs.
The night before delivery I wasn't able to sleep. No surprise. I was going to be a mom. My world was going to change.
When we got to the 3rd floor, they took me to the monitoring room and I just broke down in tears. I was so overcome with emotion I couldn't hold back anymore. They weren't tears of fear or anything like that. I was just finally a little nervous and excited and happy and so many different things all at once. Charlie and the nurse hugged me and then I was hooked up to the monitors.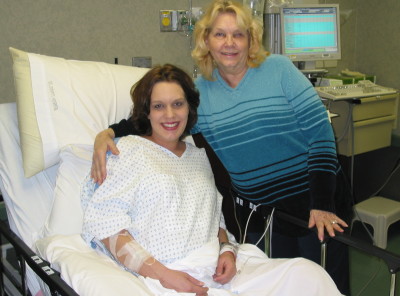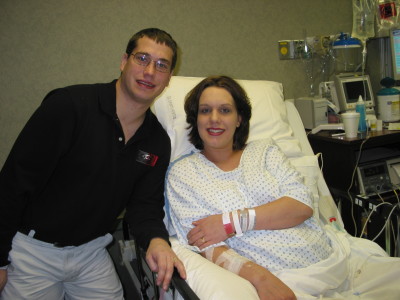 All along I suspected the epidural wouldn't work and it didn't. My wonderful anesthesiologist was up early looking over my charts and my x-rays, learning where my rods were so she knew how to place the medicine. It didn't take. I was devastated. I have just enough feeling in my lower abdomen that we had to use general anesthesia. This meant my husband had to wait outside the door instead of being in the room.They handed Charlie our little prince within minutes. He was so proud. The fear he had back in April completely melted away.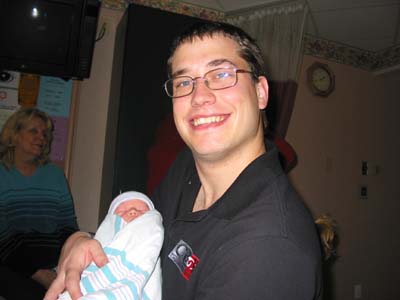 I woke up to my mom and Charlie. They told me everything went perfectly as planned. I was nursing my baby boy less than 30 minutes later. What a proud moment. I can't believe how little he was. So much has changed since then but I loved every moment of being a mom for the first time. I would love to do it all over again.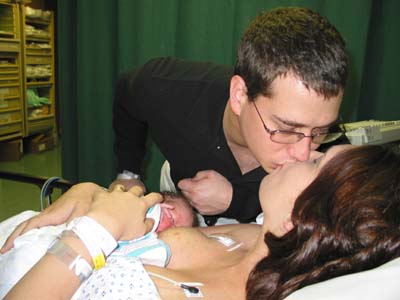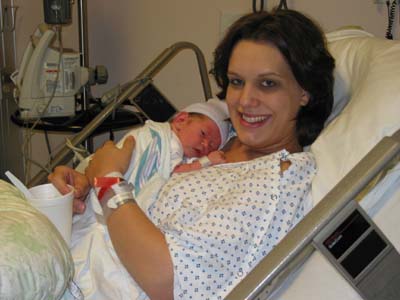 If you have any parenting related questions, please check out this post: