This post used to be on my story/about me page but I am reworking that and decided to make this a blog post. Surely there are a few of you that missed it and not everyone knows "what happened". So here ya go.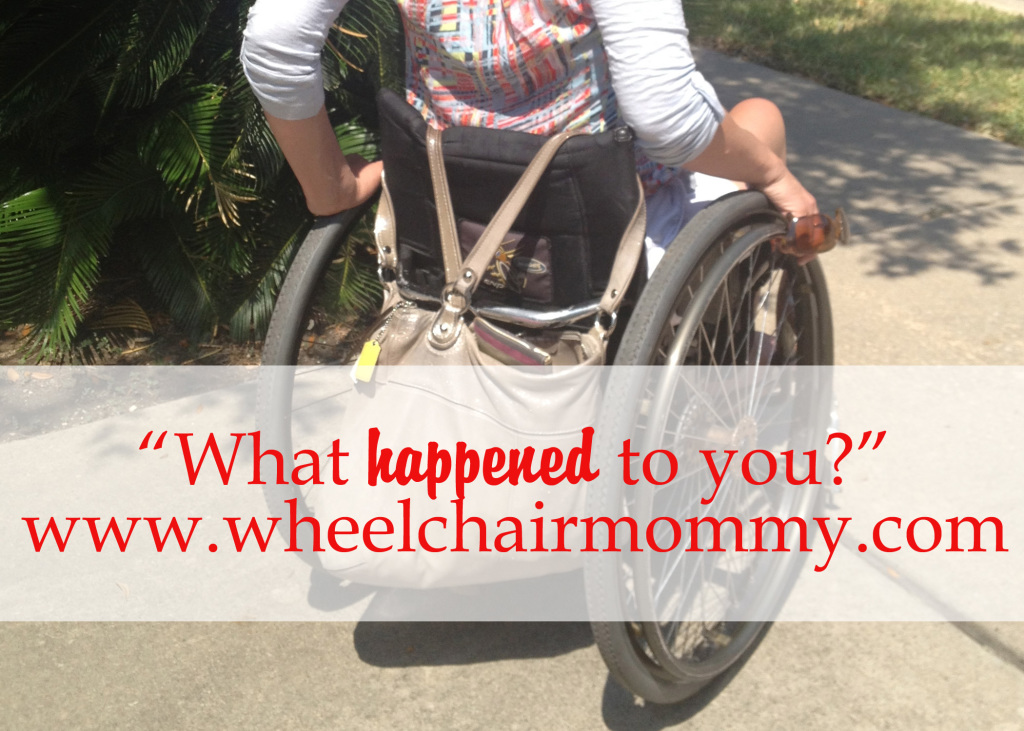 I was paralyzed in 1999, just 4 months after my high school graduation. I was just starting my adult life. I was happy.

I remember the day very clearly. I left work and skipped to my car, the sun beating down on my skin. I got home, realized I desperately needed to go wash my clothes, so I called my sister-in-law and asked if I could come over and wash. She said she wasn't home, but over at a friend's house and I should come on out. I thought it sounded like fun. My roommate arrived around this time and hopped in the car with me. We hung around for a bit and someone suggested we go out the this little swimming hole.
I got in the backseat of the car, behind the front seat passenger. My best friends decided to drive because everyone else had been drinking except her. When she got behind the wheel I slide over so I would be behind her. There was no real reason for this. I just did. I remember going along the road at sunset, and I remember the road curving to the left. I remember screams.I remember everything slowing down but I remember every detail of where I was and where my body was going. I can close my eyes and relieve every detail..

Suddenly it was dark and I couldn't move. My best friend was there and she was crying hysterically. She later told me that it looked like an elbow sticking out of the small of my back. My sister-in-law tried to take the wheel and had her foot on the gas pedal. When we went around the curve we hit another car. The car hit where I was sitting, sending me places I won't describe here.

I was in critical care for several days before they could do the 12-15 hour surgery to stabilize my spine and I was in ICU for a couple of weeks after my surgery. There were a few nights they weren't sure I'd make it, they even called my family and told them to come back to the hospital one night.

I was in the hospital for a total of about 5 weeks. That's it. Not really that long if you think about it.
When the doctors told me the news I was not surprised. Somehow, I knew. The only thing I wanted to know is if I could still have babies. If I could life would be okay. They told me yes and I knew my only choice was to move on and adjust. It wouldn't be easy but I would do it.

My biggest dreams starting falling into place when I met my husband in 2001 and we married in 2002 and I became a mom for the first time in 2004, and again in 2008 and 2011. My boys are the light of my life and while it's a challenge I wouldn't trade staying home with them for anything in the world. We began our homeschool journey in 2011 and life is busier than ever. I'm not quite sure why they call it homeschool and stay-at-home mom. We certainly don't stay home all day, everyday.

I also knew I wanted to go on to connect with others like myself. I found a huge support system through message boards, a website I created in the fall of 1999 and I continue to connect through my blog and backbones, and social media.

I've always known the importance of being a part of other's lives, others JUST like me, but still different.

The virtual connections has been amazing, but I've always hoped for more.I want people to meet me and have them meet my family so they can see that their life can still be everything they want it to be, just a little different. I'm beyond excited to share MY story and to hear YOUR story. —

Now all my dreams have come. Despite paralysis, I am a mommy!!!

One thing I've said since the beginning is I am changed but still the same. To this day my attitude is positive and I don't let the injury or the scars get me down. I still do EVERYTHING I want to do I¦just do it sitting down. I have a great life and couldn't imagine being any happier. People are always asking me how I can be so positive and I tell them it's because I want to. I dont get feeling sorry for myself. What good does that do me? No, thank you. I want to live my life and enjoy it and no one is going to keep me from doing that, most of all myself. So now you know. I have all kinds of scars on my body as a constant reminder of 9-12-99, but sometimes I still forget. I'll be going about my business and forget I am actually sitting until I try to reach something high up or far away. It's quite funny, really.
There you have it. Now you have the basic run down I give my new friends over a glass of wine!
What's your story?! I'd love to hear.