Tuesday, September 10: Describe a distinct moment when your life took a turn.
This would have been a perfect post for Thursday.
Thursday will be the 14th anniversary of the car wreck that paralyzed me.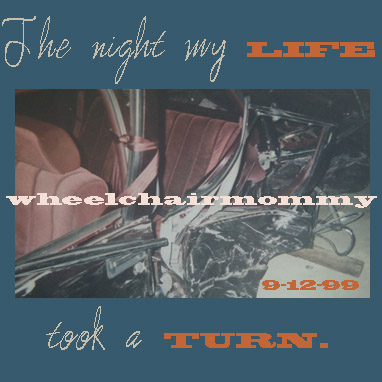 You can 

read about that here

.
This time 14 years ago, I was walking and running and dancing and going UP AND DOWN stairs.
Little did I know in two short days I would be forever changed.
I'm pretty sure I'd never seen a paralyzed person. The only wheelchairs that had ever crossed my path were the scooters at Target and Wal-Mart.
Now I needed one and I knew it before the doctors even told me.
One might say that was a pretty distinct turn.
Frankly, I'm not sure I care to talk about it much this year.
It's over. It's done.
Yet, I always know when it's that time.
Even if I forget, something ALWAYS reminds me the closer I get to the day and time.
The last two years I keep promising to share a journal I briefly kept from that time, but there's always an excuse or a reason not to.
Maybe next year.
Here is my prom picture, taken just a few months before. I'm the one that way overused the tanning bed.