My baby will be 5 soon. The first thing that means is that I am way overdue for my yearly check up. Not that you needed that information. The next thing? I absolutely positively cannot skip that oh so lovely visit this year because my IUD will expire.
We are not going to try for "our girl" and we are not going to have a 4th boy. We are content. We are done. Why is this so hard to write in a post and why have I waited so long to finally admit it?!
The doctor that delivered my three boys retired when my baby was 2 and I've just been putting off finding a new lady parts doctor. I Mean really who wants that chore?! I think it's almost worse than dating. Sure, When they've seen one they've seen them all, but not really. they haven't seen mine!
So back to the IUD. My is about to expire which means it's time to put another one in. And yes! I am putting another one in. My boys are 4. No, wait, almost 5, 7 and 11. No wait the seven-year-old just turned eight.
I can't keep this straight. So I'm definitely getting another IUD put in.
We've gone back-and-forth on whether my husbsnd should just call Dr. Chop. Yes the doctors name really is Chop. the best part? his first name is Dick. No, not Richard. Dick Chopp. With a name like that how could you not perform vasectomies??
Anyways we keep going back-and-forth on the topic but a vasectomy is just so…….permanent!
I'm not ready for 100% permanent. People all around me keep having babies. It's not that I want one, but…I'm definitely not ready for another baby. I'm pretty darn sure I never will be.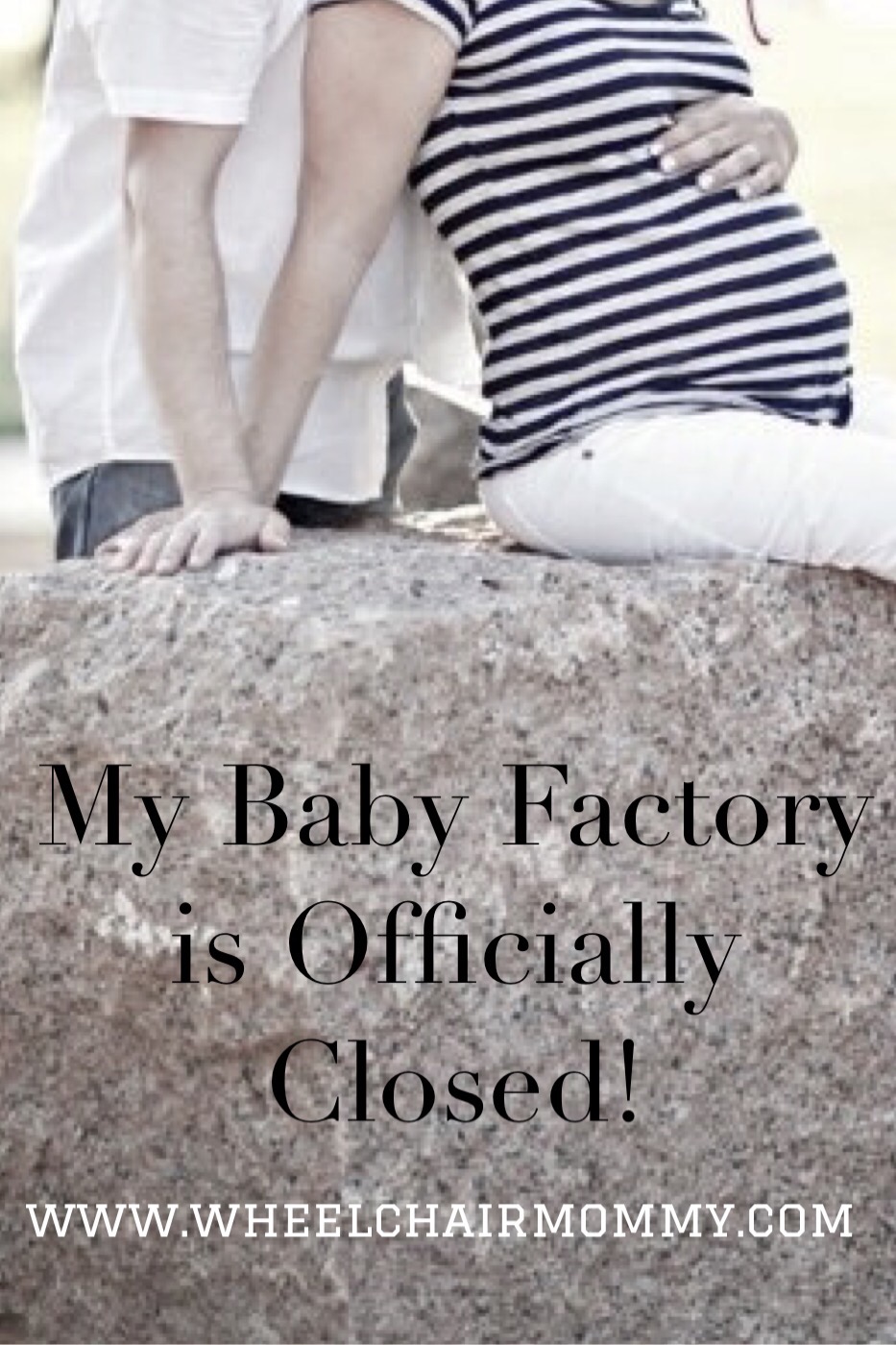 My husband is one hundred percent sure he's done forever ..make that 150%. I'm only 99% sure. No make that 75%. No 99. People around me need to stop having babies and I know I will be 100% sure. Really.
When Nathanc was about 2 he was driving me absolutely nuts. My husband and I often said if he was our first he would've been our only. I even called my husband at work one day and told him he needed to call Dr. chop right now before I changed my mind. I was done. For real. He said no because that was his fear that I would change my mind and I would never forgive him. At this point even if I DID want another my husband would never agree.
To be frank, I don't think my body would go for it anyways. I've carried 3 healthy babies, all of them after being paralyzed but When the baby was about 6 months old I had a horrible infection. We don't know how i got it or why I got it but it nearly broke me.
The doctors tried to get rid of the infection but they couldn't. They didn't even know it was an infection. we also discovered that the titanium rods they put in 12 years before were broken. The break was not the cause for the infection and the infection didn't cause the break. I kept getting worse and they had no other options. they opened me up and that's when they found the infection. Whatever they kept trying to fight kept fighting back and winning because the rods were a foreign object in my body. They had to chisel it away to remove it. They had been in there so long, they were s part of my body.
The infection caused tremendous pain and the required a horrible dependency that took months to wean from.
My body still isn't the same. I still feel worn down most days. I don't think I've ever reached 100% again and I know my body couldn't bring another baby into this world.
We are ready to close that chapter and finally have more us time. So consider this my official announcement that we are officially done. My family is officially complete.