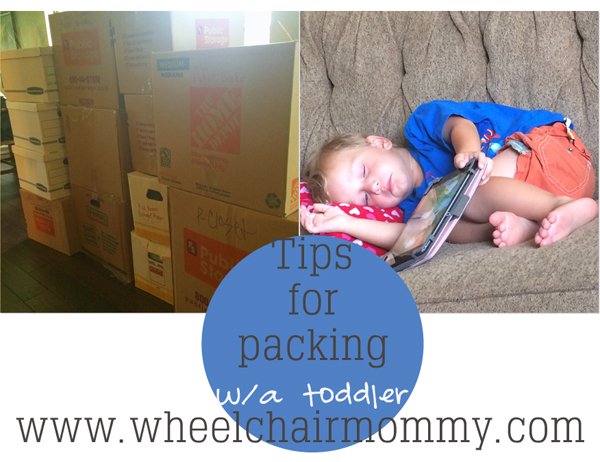 Tips for packing with a toddler:
(continue to check back, I may add more tips as I go)
Tip 1: Give them their own box so they can help. This was the very first problem I had. Nathan wanted to steal every box I put together and dump random stuff in any open box. I made a big deal out of giving him his VERY OWN box that he could put his stuff in. We made it an easily identifiable box (old diaper box) and he had a BLAST! He would come up to me and ask for pieces of tape so he could tape his box. This has kept him happy and he has since lost interest in my packing. I hope it works for you too!
Tip 2: Don't stray from your schedule too much. If your kids have swim lessons or gymnastics make sure you go. If you have playdates scheduled, don't cancel them. Your kids will go nuts if you completely stray from your schedule, there will be too much change at once and I promise you they WILL react negatively. I accidentally forgot to take my youngest to gymnastics one day and not getting out of the house for a bit drove us all nuts.
Tip 3: Keep the markers and tape out of reach. Those tape guns are insanely sharp and your kids will want to play with them. Markers are fun, and probably permanent so be careful where you put it. I woke up one morning to find RED MARKER all over a random box. I was lucky. It was right next to my light colored kitchen cabinets. That would have been a nightmare I don't have time for.
Tip 4: Take advantage of their naps, assuming they still nap. My 3 year-old rarely naps anymore but for some reason he's fallen asleep 4 days this week, on the couch. You can get quite a bit done if your little guy is asleep because even if he's distracted you can't really pack his stuff without him seeing and if he sees your packing his stuff, well… That's never good.
Tip 5: Don't pack their favorite things right away. Chances are good that you are packing to declutter before you do the rest of the packing. You will need to pack some of the kids' toys but you won't want to pack their favorite things. There is a good chance they won't see it for a few weeks and any favorites will surely be missed.
Tip 6: Try to work eating out into your budget or find "non messy" meals and eat on your patio. If you are selling your home or even showing it for lease you will need to simplify and find ways to keep everything clean so you can have it show ready on short notice. If you had pancakes or tacos, you will have a big huge mess to clean. It's not ideal because it's expensive and unhealthy but if you know you have a showing, consider eating out or finding a non messy meal you can eat on your patio, so it's easier to clean up. I'm looking for non messy ideas if you have any.
Tip 7: Stock up on library books. If you kids are like mine they LOVE books. A trip to the library is always good for a little bit of distraction time and books balance out screen time, right?!
Tip 8: Reward them with screen time. In this day and age, our kids enjoy far too much screen time, but this might be a good time to consider going easy on any rules you have so the kids are busy while you are busy.