This post/review is entirely my own. WE just really enjoyed our time. There was NO compensation for my post.
Did you know there is a NATIONAL Pacific War Museum in Texas?! Apparently THE Admiral Nimitz was from Texas, so they have a museum not far from us, that honors him and the many men and women that died in WWII, specifically the Pacific War.
There was no FLASH photography allowed so please note that all my photos were taken WITHOUT the flash.
William loves WWII history. He reads whatever he allow him too and can't seem to get enough. The museum offers tours of their Education and Research Center. I will have to take him back alone some day.
This month alone he's read "A Higher Call: An Incredible True Story of Combat and Chivalry in the War-Torn Skies of WWII, Voices of the Pacific: Untold Stories from the Marine Heroes of WWII and we picked up a a booklet of stories this past weekend.
Our weekends are usually full of this and full of that. We run there or stay here, doing things that need to be done but leave you feeling mindless and unaccomplished. I'm sure you know I'm referring to.
Everything escalated in our house Saturday and we knew we needed to get out and do something. Something real. It would not suffice to drag our kids to the grocery store or another car dealership. (yes we are having THAT debate again.)
I logged onto pinterest and searched for Spring break ideas in Texas. Somehow I stumbled upon a Pacific War Museum. I'm not 100%  sure but I **THINK** it was a pin from my darling friend Rebecca.
It was less than 2 hours from our house. How could I NOT know this? Charlie and I decided then and there that we would leave first thing in the morning and head to the Fredricksburg.
We went out of our way and started our morning at Round Rock donuts. It's a long standing family favorite and we were long overdue for the sticky-gooey goodness.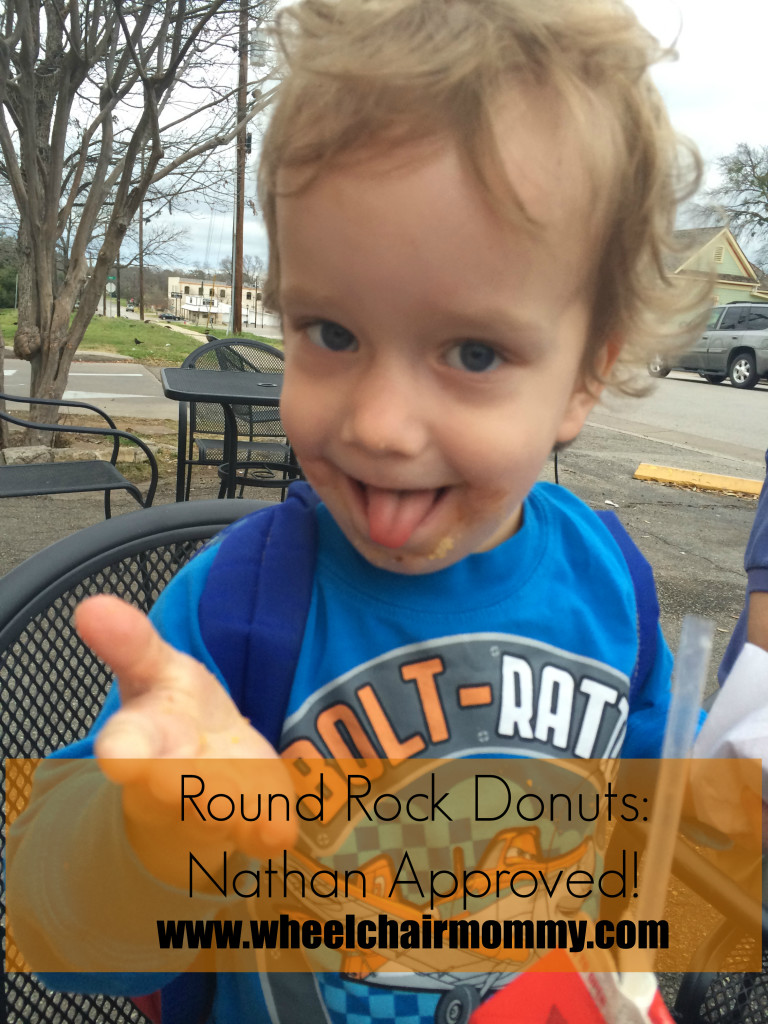 We finally got back on the road and somewhere around the half way mark, we stopped for a restroom break. It was an old gas station that had been converted to an antique shop. They had a HUGE Jar-Jar Binks statue and TONS of rocks. We picked this one up for Will. Okay, maybe it's for me. I'm the one that likes pink.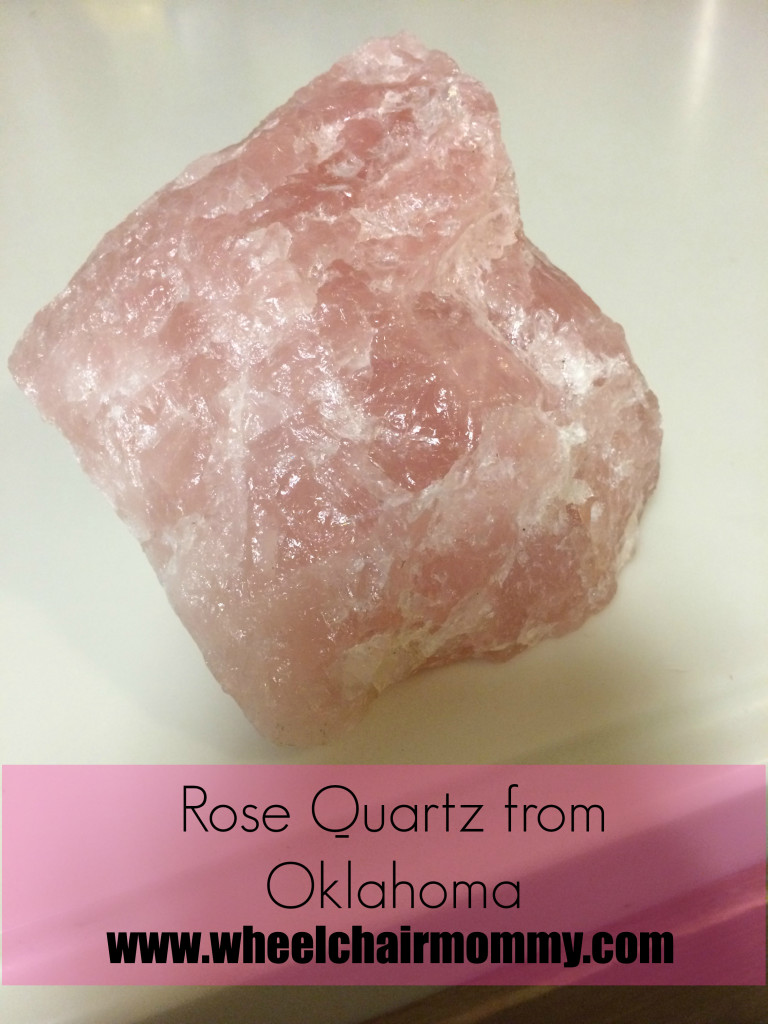 We got to the museum around 10:30 and everyone had a great time for about the first hour and then the "when are we leaving?" questions started.  Lucas was bored and claiming he was tired. He claims he's tired quite often. He perked up when we found an airplane!

We didn't get the story on the first plane but the second plane was a test plane. They used it to test the pilots and see if they could successfully take off and land on an aircraft carrier 8 times, consecutively. This particular plane/pilot crashed on the 3rd take off and the plane was pulled out of Lake Michigan about 20 years ago. It's interesting to get these little tid-bits from the men working there. We decided it was getting close to lunch and we were near an exit so we needed to leave for lunch. That didn't go quite as smoothly as I would have liked because ….. this was at the Pacific War Museum: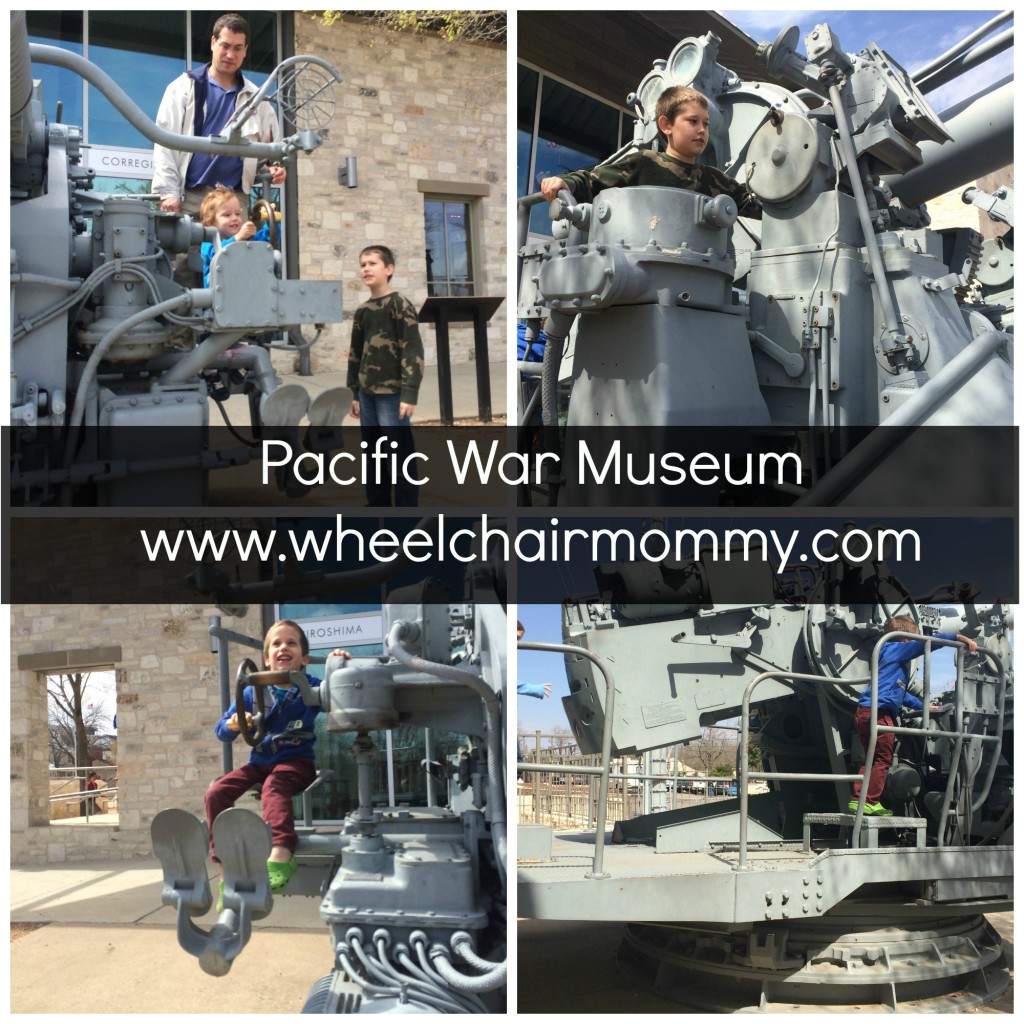 We ate at a great little pizza place called West End Pizza. It was amazing. Definitely check it out if you ever find yourself in Fredricksburg.
We got back as quickly as we could. We only had 4 hours left and we hadn't even covered the fist half. My brilliant husband decided to get Lucas one of those personal phones that tell you about the different displays. That made the remainder of the afternoon a delight. There was so much to take in but I think the exhibit that really touched me the most was the one about the Sullivan Brothers. This family lost ALL FIVE boys in the war, at the same time. They were MIA. I can't even imagine. It took every ounce of strength I could muster NOT TO CRY RIGHT THERE.
The boys probably liked the atomic bomb exhibit 2nd best. We studied that in school recently so my 5-year old recognized Nagasaki and Hiroshima.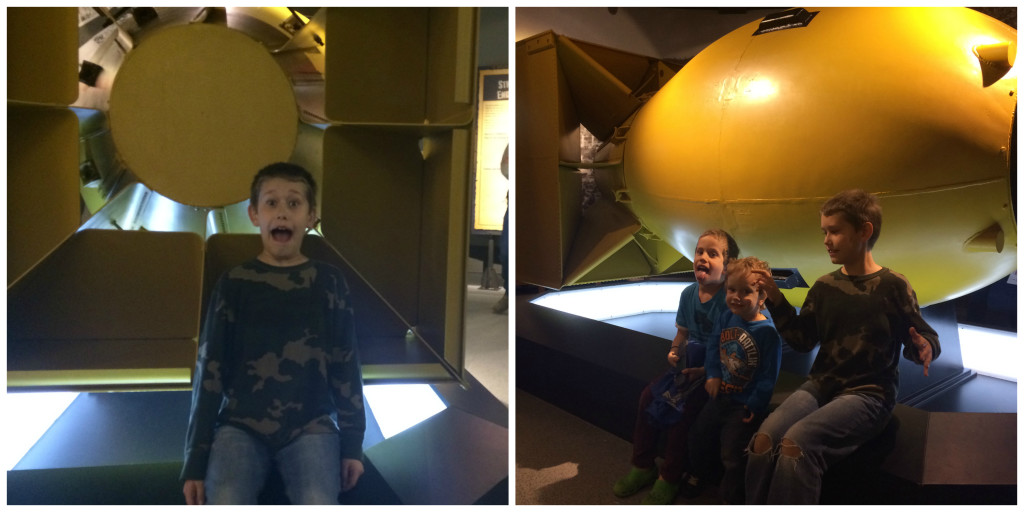 We wanted to take a guided tour, but opted out. The wind was strong and cold and not everyone brought a jacket. It's 3-acres of indoor/outdoor exhibits. We plan to go back and make a mini vacation out of it instead of only a day trip. We want to take the guided tour and see the Living History/Pacific Combat Zone portion.  This is extra and not included in your museum tickets but I'm sure it will be a hit with everyone. They even provide earplugs!
WE also want to go to he Admiral Nimitz museum, which is the much smaller, original or "flagship" museum. The larger, newer portion of the museum is called the George H. W Bush gallery.
There is so much to see. I am truly looking forward to going back.