I chose to follow Jenni's prompt today. "Things you're most afraid of."
I'm going to take a few different angles with this one, mild to extreme.
I will write about the things that create enough fear they could destroy me and the small things like spiders.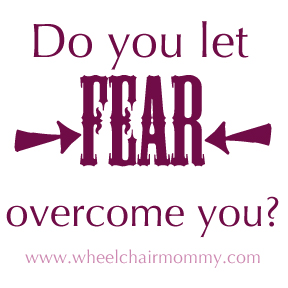 I can't even look at a spider on my screen without shuddering and wanting to crawl inside myself to get away. Can you imagine how I react when I see a real one?!
The biggest thing on my mind these days is my mom. I fear the day she's gone. I talk to her several times a week, sometimes daily. I'm her baby and as of right now I'll never carry on the relationship we share. I don't have a daughter and I'm sure I'll never have one.
I never think about losing my husband. I'm comfortable enough in our relationship that I know with all my heart we will be together forever, by choice. The fear of something happening to him is something I never even let enter my mind. I can't go there. I can't imagine not having him by my side.
When I was in the hospital last year, I briefly imagined how it would be if I ended up leaving my children motherless and I nearly feel apart. I'm grateful for skilled doctors that made sure they put me back together again.
I can't fathom losing a child. Yet, my sister faced this just over a year ago. The brokenness that over takes you every time you would dream your child is there but he's not!?
That is my greatest fear.
These are all real fears.
I'm a busy mom, so I don't have time to think about these often. I couldn't function or get through the day if I did, but these are the things I'm most afraid of. These are the things that are most important to me.