How does a paraplegic / person in a wheelchair use a crib?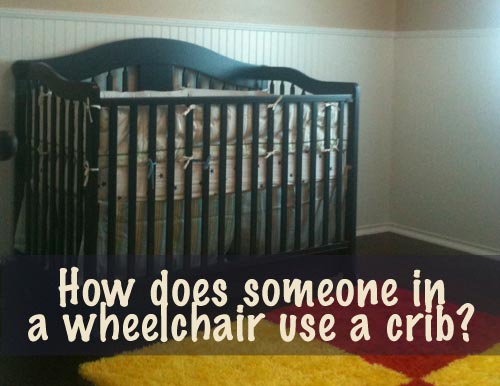 Question:
Hi Priscilla,
I just found your blog today and I love it! I'm in a wheelchair myself and am almost 3 months into my mommy journey. Things have been a challenge so far, to say the least and I think your blog will be quite the encouragement for me. I was wondering how you handle the crib situation. My brother-in-law was going to modify one for us, but I'm not sure he's going to be able to get it done and I saw on your blog that you have a regular crib. How do you work with that?
Thanks!
A
Answer:
I have a regualr drop side crib. Unfortunately they don't make them anymore but I have found that I can still use it side all the way up with no issues. I have an extremely low injury (L1,2) so have complete uppder body strength.
I sit slightly angled to the crib, almost parallel and lean ON the crib to get baby in/out. It's the same process I use to get baby in/out of the car.
The crib mattress raises/lowers so when baby is super tiny and not really moving and on hands/knees it's in the highest position making the process easier. 🙂