I briefly mentioned our new kitties the other day.
We had an older kitty that just never came home one night last year. She was about 13 years old and we assume it was just "her time".
We've all missed her dearly. This is Mia when she was about 3.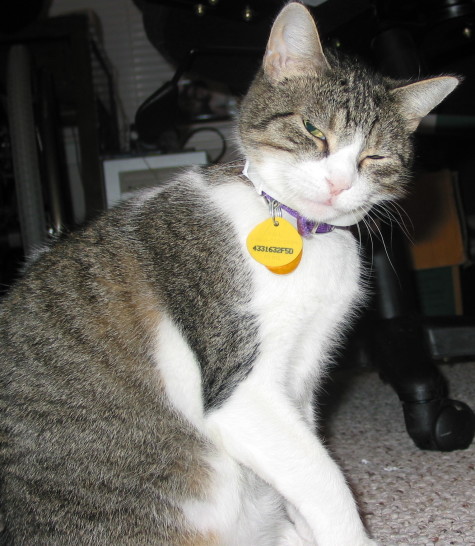 Will has been begging for a new pet for a while now. The latest request was a mouse.
We toyed with waiting until this fall to get cat but I thought about it and it would be a better idea to get one this summer when there are fewer things occupying us. New cats and the new school year seemed like trouble.
I hopped online and found Sprout – a 12 week old kitten and another cat that was good with others (cats and people). She was about 2. We had already decided we wanted to get 2 cats this time, instead of one. We wanted them to have each other.
Mia never played well with other cats so she was an "only".
The woman the the animal shelter informed us that Sprout was currently at a local pet store and hanging out with a similar color and age kitten named Sadie. She kindly requested that we at least consider her before looking at the older kitty.
We saw them together and feel in-love. We immediately filled out the papers and were able to pick them up the next day.
They have completely different personalities and they are fitting in perfectly into our family. You should see these two chasing each other and tackling each other. It's priceless.
Sprout is about 2 weeks older and very friendly and hyper. He's the perfect boy kitty and he looks all boy. The Vet said he's going to a very big boy.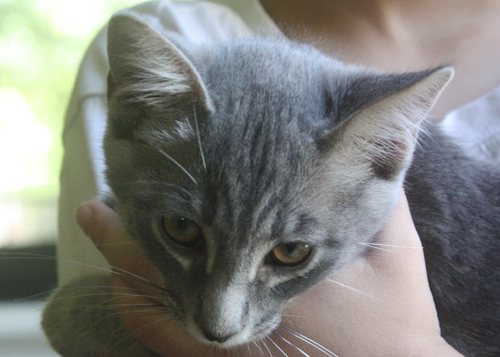 Sadie is very shy but very sweet. She can be just as playful as Sprout but not as often. She tends to "come out" more when the kids are in bed and it's just the adults.