I am a member of the Everywhere Society and Everywhere provided me with compensation for this post about Clinton Kelly (my BFF). However all thoughts and opinions expressed herein are my own.
Clinton Kelly visited Macy's at The Domain on Friday and I was able to meet him! It was a very exciting and 'freaking fabulous' evening.
I did a little shopping before the show because … well … that was the catch. If I wanted to actually get a picture with him, hug him, and fish for a compliment, I needed to make a $100 Estee Lauder or women's clothing purchase.
I was out of Knowing perfume and I needed a top for our upcoming family pictures so it was a no brainer. I get to meet Clinton for buying stuff I need anyways? And I get a cute SWAG bag? DONE!
I did get the compliment, by the way. He said I was sporting the hottest trend of the season. Texture!!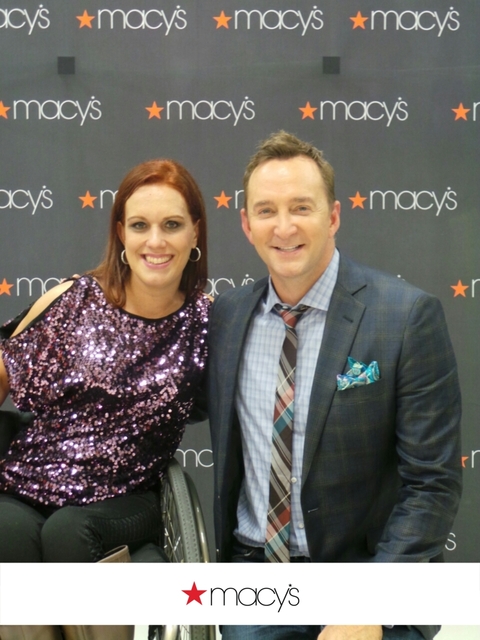 I lucked into VIP seating, thanks to Everywhere Society. This meant that I had a front row seat. YAY.
My beautiful friends Traci and Tonia (she was BEHIND the camera!! Thanks Tonia for some of the pictures!!) joined me for mocktails and appetizers. The cotton candy in sprite was SO sweet and yummy and I think I could live on roasted red pepper hummus. A huge thank you to Copper for providing the goodies.
I missed out on the makeovers by Estee Lauder, Blo- Blow Dry Bar and the Sunglass hut (where I buy my sunnies), but they were kind enough to pamper the Clinton Kelly Fans.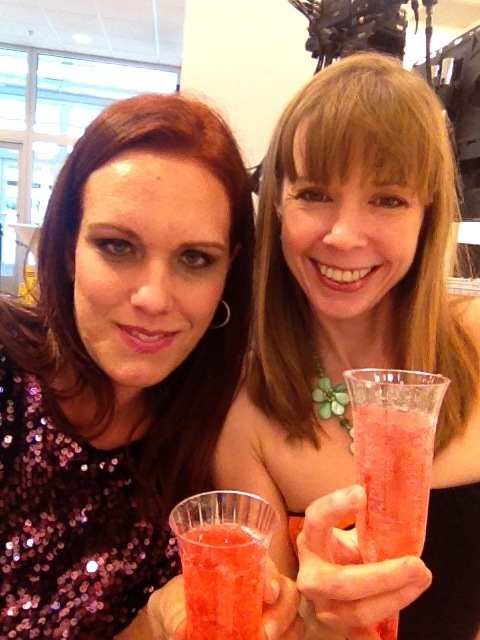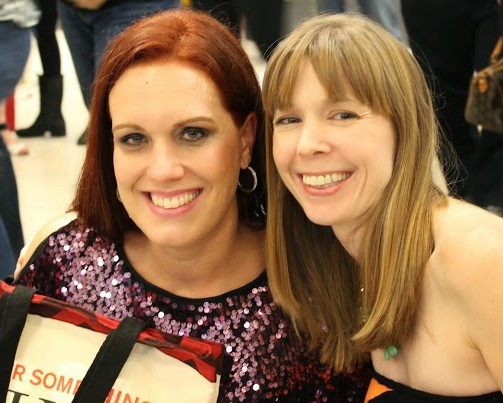 The store manager Kelly, called us to attention and we got right down to business after Clinton told us about his eventful trip to Austin. His flight to Austin was rescheduled and due to arrive at 8 PM. That clearly wasn't going to work so he had the pleasure of flying into San Antonio, renting a car and driving to Austin. In the rain. At least he brought rain! We desperately needed rain.
The fashion show was fabulous and full of fall trends done 3 ways. Millennial. Curvy. Mature. I loved EVERYTHING, but the Millennial and Mature combined would be perfection for me. You can see better detail in Clinton Kelly's Instagram feed.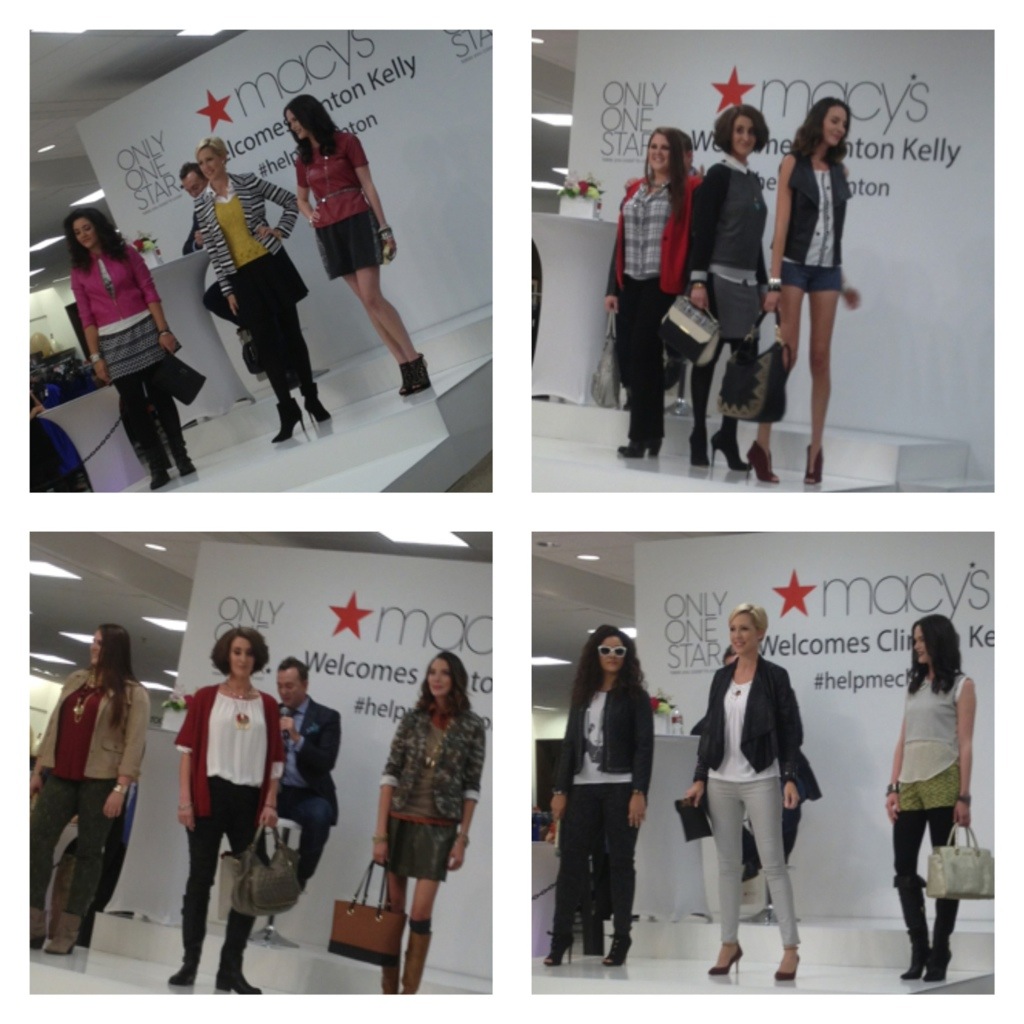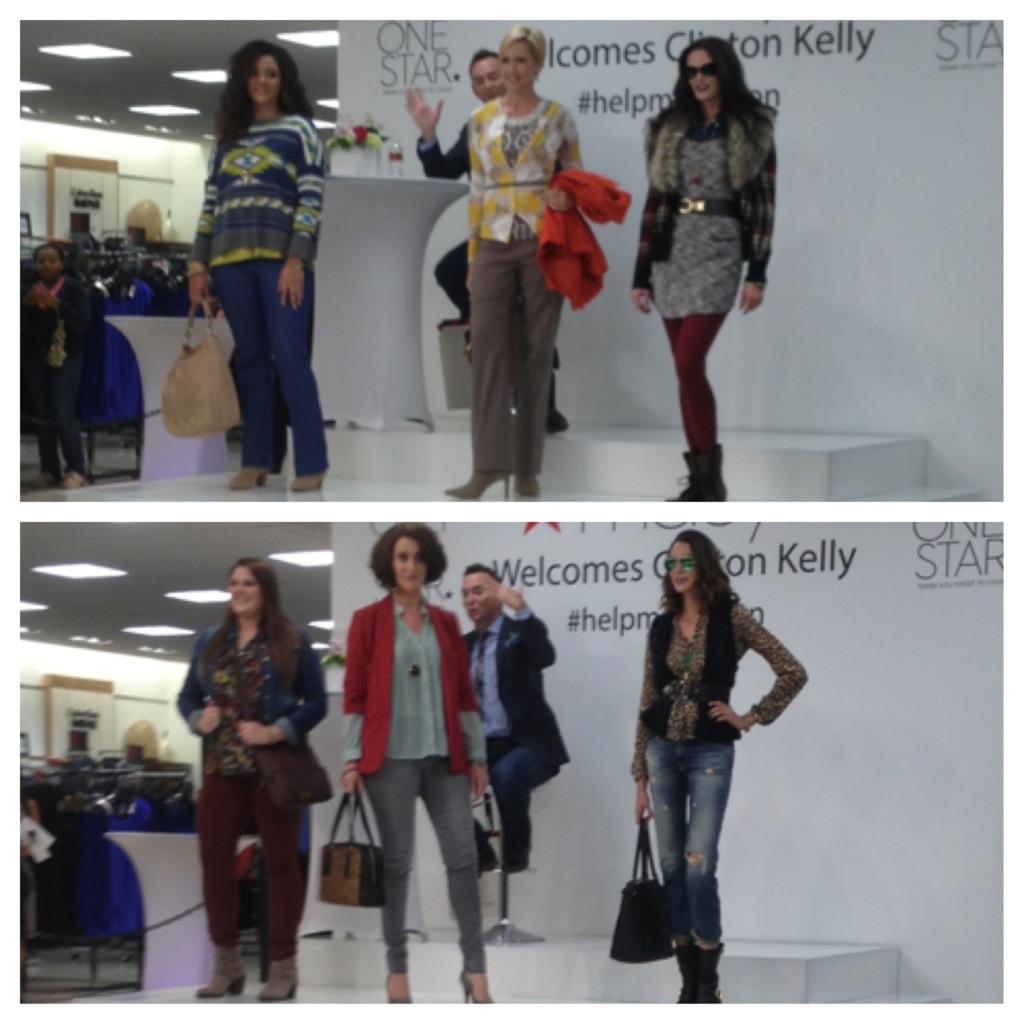 The trends are: (thank you Traci for being such a good student)
skater skirt (as in ice skater) – add tights for a curvy or mature look
distressed denim – distessing draws your eye to that body part. BE CAREFUL.
mixed media – mixed textures and deep colors
knits – combine same or similar colors with different textures; unless curvier – than choose a single bold print
camo – darker, more subtle for mature
I'm missing one ……
AND AS ALWAYS DON'T FORGET YOUR STRUCTURED JACKET OR COMPLETER PIECE!!
Yes, it's hot in Texas, BLAH-BLAH. STRUCTURED pieces.
I could go on and on but I don't want to keep you. You need to start your day and make sure you have something in that's cute. Right?
I'm sure you're wondering if Clinton is planning to be in your area sometime soon. Here are the dates and locations of upcoming events with other Macy's stores.
If you can't make it to any of the events, no worries, you can always tweet, instagram, FB, YouTUBE or hit him up on pinterest. Just use the hashtag #helpmeclinton and he (or someone on his team) will get back to you ASAP.
I will likely be linking up with these ladies:
 WIWW: The Pleated Poppy | Style Sessions | I feel Pretty | Random Wednesday with Shanna | Tucker Up | Sunday Style | Real Girl Glam | Wardrobe Wednesday | Plane Pretty | Three-Fer Thursday | Everyday Fashion & Finance | Two Thirty-Five Designs