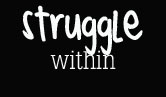 It's Friday again.
Last week I promised that I'd post about struggle every week.
I'm planning to follow through on that promise.
So many of my loved ones face struggle far greater than mine, every day. I can't talk about that here but I can only imagine their pain.
In all honesty, I don't have much, unless you count a sassy 6 year old.
My biggest struggle this week? Accepting growth. My baby will be 7 soon and he's a first grader. It seems like JUST yesterday he was coming home from the hospital. On top of that, my middle baby isn't my baby anymore. He's now a big brother and my BABY baby is growing every day. I had to pull out bigger clothes this week. He finally out grew his Newborn stuff.
Now I know why my mom had 9 kids….. (not that I WANT 9 kids).
So that's my struggle this week. If you can call it that.
What's yours?