I just finished crying because of this post.
I was rambling in her comments and decided I should write my own post before tomorrow just in case this baby is a boy and not a girl and I don't have the chance to do what I want to do.
In 1986 my 18 year old sister, Lisa, died of an aneurysm. It was sudden. We are pretty sure she did not suffer. I was 5. I remember so clearly every detail of the funeral home. I don't really want to get into that though.
When I was pregnant with Lucas, I was headed to the mall with William and a Kenny Chesney song came on. I was listening to the words and bawling. Instantly. The lyrics made me think of Lisa. Would she have had kids? boys? girls? Would she be married to the same man? Would we be best friends?
Here is the song.
Kenny Chesney's "Who you'd be today"

Sunny days seem to hurt the most
Wear the pain like a heavy coat
I feel you everywhere I go
I see your smile, I see your face
I hear you laughing in the rain
Still can't believe you're gone

Chorus:

It ain't fair you died too young
Like a story that had just begun
The death tore the pages all away
God knows how I miss you
All the hell that I've been through
Just knowing no one could take your *place*(instead of 'love away')
Sometimes I wonder who you'd be today

Would you see the world?
Would you chase your dreams?
Settle down with a family?
I wonder, what would you name your babies?
Some days the sky's so blue
I feel like I can talk to you
And I know it might sound crazy

Chorus

Today, Today, Today
Today, Today, Today

Sunny days seem to hurt the most
I wear the pain like a heavy coat
The only thing that gives me hope
Is I know I'll see you again someday

Someday, Someday
I will never know. Her name was Lisa Ann. I did not yet know if Lucas was a boy or a girl. I decided RIGHT THEN that if we had a girl her name would have some form of Lisa Ann. So that is why if this baby is a girl she will be named Chloe AnnaLisa. I could NOT look at my baby every day and call her Lisa. It would hurt to much. I can't imagine what it would do to my mom. My mom does know my plans and she thinks it's beautiful.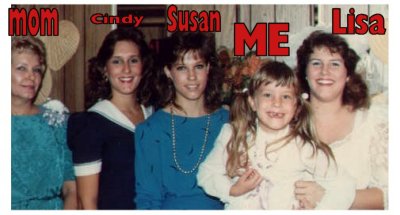 There she is on her wedding day; one month before her death.
The other women are my sisters (except for Karen, not sure where she was) and our mom.
Here is another one with of all my mom's daughters (she had 5 girls and 4 boys for a total of 9, just in case you didn't know that)