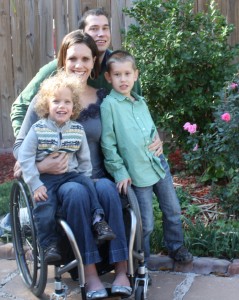 Yup. 30. It doesn't
bother me at all. In all honesty, I'm happy to be out of my 20s. I
haven't lived the life of a 20 year old since I was, well, never.
People always immediately tell me I'm such a baby when they find
out how old I am and it really drives me crazy. I wasn't your
average 20-something and I'm not your average 30 year old. I've
been through so much more in my lifetime then I can ever wish on
anyone. When your life changes overnight when you are only 18,
everything is different. (you can read about me and FAQs if you
don't know what I am talking about) My biggest problem is that
these people are usually my friends. My friends are usually older
then me. Older in number anyways. There is a reason THEY Are my
friends and not very many people the same age as I am or younger.
(I DO have friends my age and younger, I've just always had more in
common with people that are older). Some of that is probably
because I am the baby of 9. My oldest sibling is about to be 54.
I've never really been around that many people MY age (except at
school). ANYWAYS. Back to my birthday. Charlie and the boys are
taking me to
KONA. It's probably my new favorite place.If you ever go,
get the sweet and spicy shrimp appetizer. I think we will probably
have to order 2 orders. It's the best thing ever. The macadamia
chicken is divine, too. The shoyu-cream sauce is just mouth
watering. I have NO IDEA what is in it and I am afraid to ask. I'm
getting a diamond band that almost IDENTICALLY matches my wedding
band to go on the OTHER side of my engagement ring. (i have two
though. a gold one like hubbies and diamond one to go with
engagement ring). I'll post a before and after.