So, for the last 12 years I have entered bathrooms with caution.
What if my brakes fail?
What if the toilet moves on me?
What if my chair slides while transferring?
What if?
What if?
Well, it's always been a SILLY what if. It's never happened. It was never GOING to happen.
Well.
It finally did.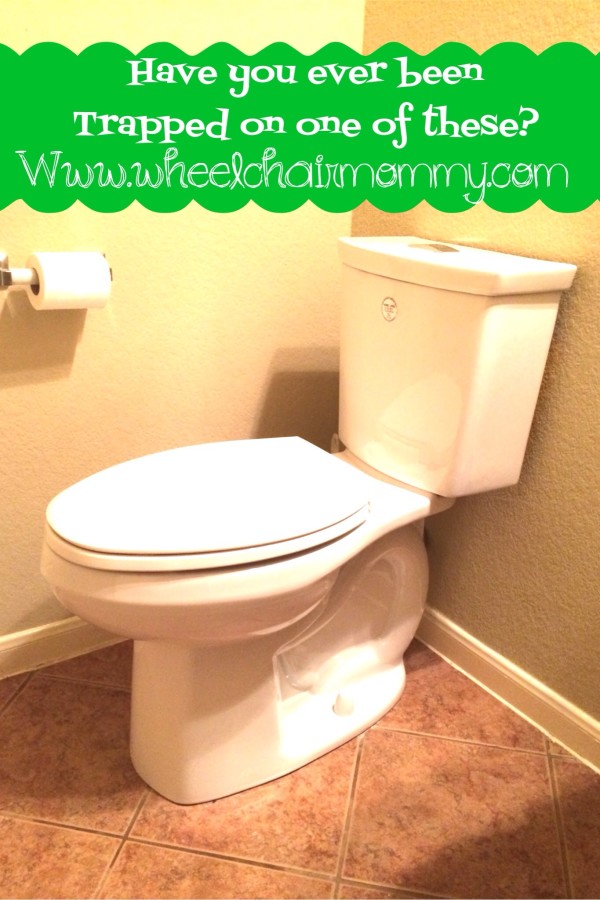 We were at a very well known Austin original. I will not name names…THIS time, but if it happens again (I plan to go back JUST to test this)you can bet your bottom dollar I will tell you exactly where on Barton Springs Road they are.
We finished our meal and I had a huge glass of water, so, well.. you know.
I had to pee.
I think.
I assume I did, so I went anyways.
I enter the bathroom and "what if" enters my head. I lock the deadbolt that is the only lock.
I almost leave my phone on the little ledge but WHAT IF WHAT IF WHAT IF keeps playing in my head.
I put my phone in my purse, instead. My purse is on the back of chair, so I should be able to get to it.
I transfer and my chair scoots. Just a little.
I finish up and get ready to scoot back into my chair and I can't. It moves. I try it another way. It still moves.
Well, crap.
I try something else and NADA. I'm stuck.
I call my husband and he doesn't answer.
I call him again and it goes to voicemail.
He beeps in. I answer.
I tell him I'm stuck and nothing I try works.
I even tried putting my wallet behind the wheels. It slid the other way.
I hear him outside the door. He told Will to stand there and keep Lucas out of the way (or something like that).
He says there is no way to unlock from the outside that he can see.
Well, at this point they are going to have to break down the door or call the fire department because I was either going to be stuck on the toilet or on the floor.
He realizes he can jimmy his key in the little hole and turn it. Sorta.
The little old lady waiting informs him that there is someone in there.
He knows. It's his wife and she's in trouble.
Jimmy a little more. Key breaks but he opens it.
He holds my chair and I get in in.
He realizes how slippery the floor is too. He doesn't fall but he holds the sink and slides on purpose to test it. Its' REALLY slippery.
Safe.
I come out.
Where's the baby?
Oh, crap.
He left him at our table.
Our waitress was waiting.
At first she thought we forgot him but the hostess said he was helping me.
We talk to a manager and she says she's so sorry and she will have someone clean it.
We tell her it's actually VERY clean, just slippery.
She'll have them clean it anyways.
She will have HER boss call me and she hopes we have a great day.
S/He hasn't.
It's been over a week.