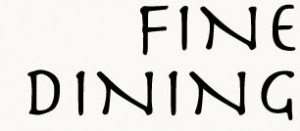 This originally started as a reply to a blog post by a friend of mine.
Read her post first. Please.
—-
This topic is a pet peeve of mine. This is a form of stereotyping. You may as well just say that your child(ren) have a dollar value.
I'll just be talking about restaurants. I'm not even touching airlines, hotels, or movie theaters.
"You are 5 so your not worth a seventy dollar meal" , or "you're 7 so eating a fifty dollar steak in front of you would ruin it".
How awful is that?! Say it outloud.
Not all children are equal. Not all parents are clueless to their children's behavior. Some know when it's time to leave. Some know when not to go at all because they know their kids.
Some children are very well behaved in restaurants.
Some parents work extremely hard to make sure of that.
Are they perfect every single time? No, but we learn new triggers every time they do not behave.
Have we ever left because they did not meet expectations? yes, of course. We want to continue taking our kids out. How else will they learn what is and isn't acceptable?
Were they behaved as expected, the next time? You bet.
Do we take our kids to "fine dining" places? yes.
Do we take them when adults are typically "out"? No.
That being said we usually go to "family dining" places. They are cheaper. We are a family of 4 eating diners, soon to be 5. We can not afford to go to McCormick and Shmick or Kona Grill every time we go eat, buy why should my steak loving 6 year old be banned from the best places to get steak? That's not fair. If we are willing to pay for it, we should be allowed to bring him along.
What I can MAYBE go for would be "no kids after X time". The most well behaved kids can't be well behaved if it's past their bedtime.
I say maybe because we don't know every family's schedule. It's a stretch but what if they are on an opposite schedule because of mom/dad's work and 10 PM is the only time they can go out?!
As you can see I am NOT for banning kids from establishments. Why not ban the guy that is clearly out with a "lady of the night"?* He's in a business suit and she's in a slinky dress with sparkly heels and has her shoes off and her feet in the booth. That's more distracting then my 3 year old smiling at people that look at him.
* Yes, this is a true experience. Yes, I could be wrong but it was VERY distracting while out for my anniversary dinner at a "Fine dining" restaurant.