There was a day when all I had to worry about was lever handles. That's it. We only have one. The front door. Easy-peasy. All we had to do was lock it. This weekend I got sick. I did lots of sleeping and hubby took care of the boys. Yesterday I was on my own again. Guess what? Magically, in that 48 hours my *almost* 2 year old some how learned to open the pantry door. Crap. And my bedroom door. nice. I guess we have to buy those door knob things. Which is your favorite? I think they are all virtually the same, right?
And while we are on the subject of crap…..guess who is interested in the potty? The same little suspect. I bought him a froggy potty and he loves to sit on it. He hasn't gone IN it yet. Thankfully. He tends to sit on it and then put it on his head like a hat. I need to try and stop the hat thing. Hopefully before he deposits anything in it.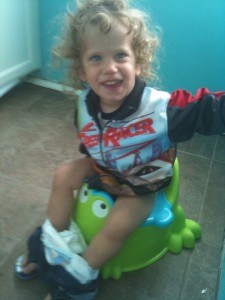 Plants. We had new plants put in front of the house and around the hot tub. We also planted a magnolia tree. Nice. I'll have pictures soon.
I'm still worn out. I've been sleeping. A lot. I won't even tell you. It's embarrassing. My mom is here now so I can sleep a little more and hopefully clear this mess up.
Ooooh and I have another scrappy guest gig in May and applied for another full time team. I'm crazy, but I love scrapping.