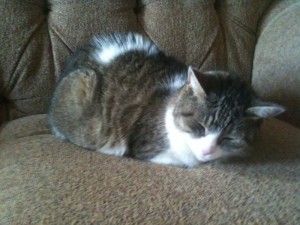 We aren't sure what is going on with our kitty, but she's 10 years old and has been shedding a crazy amount the last 2 weeks or so. I've kind of ignored it. Yesterday, she came in from being outside and I was vacuuming (hair!!) and she kinda rubbed up against the vacuum once or twice and fell over. I thought it was just the noise/vibration that startled her. She moved on and I finished up. I looked over at her and ever few steps she'd stumble. It was like she was drunk. Charlie started watching too. He picked her up and tried to get her to drink some water but she couldnt stand up long enough to do it. We called the Emergency vet and they said to bring her in. I was holding her and also noticed she felt lighter (found out today she's lost 0.6 lbs, which is a lot for a kitty, I think). Anyways, the Vet  looked her over and we ran some bloodwork but nothing came back abnormal. They suspect it might be neurological  :(. There is a small chance it could be toxoplasma so we are giving her antibiotics for that. They also put a hydration pack under her skin. ALmost $500 and no real answers. We just wait and see and give her lots of love …. Hubby did some research and found that some older cats tend to do this and it's over in a few days but the weight?!!! Oh and we were worried she wasn't urinating but she finally did that! Phew!!
We are trying to keep her off furniture for fear she'll fall but that is nearly impossible. She's been hiding out UNDER our bed quite a bit.
Worried about my kitty.