I wanted to wait until this evening to write this post because I didn't know what I wanted to say. I still don't.
It's been 5 years TODAY since I got the call around 8 am that my dad had died earlier that morning. I saw their number on caller ID and my heart immediatly sank. Charlie had just left for work.
We had been expecting it but I was instantly devastated before I said hello. I was expecting a photographer to be on the way and thought maybe he was looking for directions because he was lost and got instead I got some of the worst news ever.
Wil was only 5 months old. He'll only know him in pictures (I made a 20 minute video collage that I thought I was going to watch today but didn't … Lucas has yet to see it because I hate (but LOVE) to watch it.)  Lucas, of course, never met him.
It's brutal to lose a parent; whether you expect it or not.
Daddy in the 1950s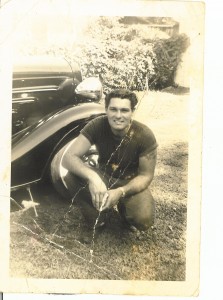 Daddy and I in May 1999 (just 4 months before I was paralyzed)